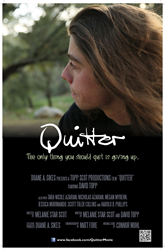 The only thing you should quit is giving up
Los Angeles, California (PRWEB) May 07, 2014
Because it is a silent film and addresses the universal issue of addiction, "Quitter" has no language or cultural barriers and strikes a chord with audiences worldwide. It's the story of a young man whose addiction is holding him back from achieving many of his goals and the tough and often humorous path he takes to try to break his addiction. It's an artistic film that was written with the hopes of inspiring others to make positive life changes. Its highlighted point is that, regardless of how many times we run and fall, we should never give up. The films tagline was borrowed from Steve Pfeister of the Professional Fitness Instructor Training Program (PFIT): "The only thing you should quit is giving up". Mysterious items and an unexpected character appear in the film to add an additional layer and serve as a reminder that we are never truly alone in our struggles.
Screeners have given "Quitter" glowing reviews, describing it as "a stellar work of art", "engaging", "humorous", and "never a dull moment". The film stars award-winning actor David Topp, who's been praised for his Brad Pitt looks and Robert Redford style. Topps' embodiment of the main character holds the viewers attention from beginning to end. Topp is a talented young writer and filmmaker who's acting skills gained national attention and a loyal fan base from his Hallmark movie "The Shunning" by Michael Landon, Jr as the supporting lead and romantic love interest to Danielle Panabaker, as well as his successful Christmas movie that continues to air annually on the ION Channel, "Mandie and the Forgotten Christmas." Recently, on May 4th, Topp won Best Actor award in his age category at the prestigious Young Artists Awards in Hollywood for his dual lead roles in the last Topp Scot Productions film, "The Box".
Here is the link to the Official Teaser Trailer on YouTube
Another notable detail is the all original score for Quitter was written and performed by a fourteen year old guitar prodigy, Connor Muhl. Connor is the grandson of the late Edward Muhl, the studio boss and movie mogul of every picture made by Universal Studios from 1953 to 1968.
The film also features the stunningly gorgeous former Miss Indiana USA of 2012, Megan Myrehn.
# # #
Topp Scot Productions is an independent production company with bases in Southern California and North Carolina. Female Director Melanie Star Scot and Director of Photography Matt Fore shot the film entirely on location about 80 miles east of LA in the San Gorgonio mountain region known as "The Pass" in early 2014 with a three man crew from Los Angeles. Matt Fores' credits include "The Walking Dead", "Homeland", "Little Fockers", "Limitless" and "Real Steel"
If you would like more info or would like to schedule an interview with David Topp, Melanie Scot or Duane A. Sikes, please call +1 (828) 989-4991 or email toppscotproductions(at)gmail(dot)com.