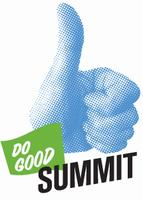 DO GOOD WEEK is May 5-9 and truly lives out the mission of Think Local First, a non-profit that supports independent business growth in the city.
Washington, DC (PRWEB) May 05, 2014
From May 5th to May 9th, 2014, local entrepreneurs, innovators, advocates, business and non-profit leaders will gather in Shaw to celebrate social enterprise, independent business, and smart community growth.   
DO GOOD WEEK, now in its third year and hosted by Think Local First DC (TLF), is a series of events designed around community building and collaboration of entrepreneurs creating conversation about smart growth for our city. Signature events include the DO GOOD SUMMIT, GOODGrowth, GOOD Production, and the DO GOOD Salon: Passion, Purpose and Production.  
"Over the years we have found that the best way to create change is to find space, connect people, and begin a conversation. DO GOOD WEEK kicks off with a conversation about growing our city and ends with more than 30 entrepreneurs sharing candid conversations and leading discussions on how to create more sustainable business in DC," explains Stacey Price Executive Director of TLF.  
The final event, the DO GOOD SUMMIT, is a day-long interactive conference with a mix of traditional and innovative conference platforms, hands-on breakout sessions, inspiring local, regional and national speakers, and a wide array of networking opportunities designed to grow their business.
Keynote speakers include:
·        Gina Schaefer, Founder, A Few Cool Hardware Stores
·        Mark Brand, Founder, Sav-On Meats
·        Mary Walder, Founder, Mary's Gone Crackers
·        Cheryl Lofton, Owner, Lofton Customer Tailoring
·        Cheryl Cambell, Managing Director, GreenEileen, Eileen Fisher
·        Jon Wye, Founder, Jon Wye.com
DO GOOD SUMMIT participants will:
Hear true confessions from national producers and entrepreneurs, regional changemakers, and local indie rockstars.
Develop skills relevant to starting, owning, and growing a small business.
Learn about trends, share best practices in DC and more broadly, and find out how you can benefit from the localist movement.
Breakout sessions range from low-risk, creative ways to launch a business to how millennials are changing the city.
This year's Summit will be held at the Wonderbread Building (641 S Street) and at surrounding small businesses including Right Proper Brewery, Eat the Rich, Mockingbird Hill, and Southern Efficiency. With the addition of smaller, more intimate venues, attendees will be able to learn, share, and network with other DO GOOD SUMMIT attendees prior to the main event.
#dogood2014 Events
GOODGrowth Salon + Kick Off Happy Hour
A Candid Conversation About Creative Development That Builds Community
May 5 / 6:00 p.m. - 8:30 p.m.
@ WeWork (641 S Street)
$20 ($15 for LOCALISTS with code)
Panel:
Evan Regan-Levine - JBG (@EvanReganLevine)
Martin Ditto - Ditto Residential (@Martin_Ditto)
Sakina Khan- DC Office of Planning (@sabikakhan)
Derek Brown- Laughing Cocktail (@betterdrinking)
Moderator: Rebecca Sheir, Metro Connection WAMU (@rebeccashier)
GOOD Production
A Mini-Showcase of Local, Sustainable Food Makers
May 7 / 5:30 p.m. -8:30 p.m.
@ Dacha Beer Garden (1600 7th St. NW, at Q St.)
$15 for non-members/guests ($10 for DCNI members/LOCALISTS with code)
Join TLF and DC Net Impact for an opportunity to enjoy samples, network, and learn more about local food purveyors with an eye toward sustainable, locally sourced ingredients, and innovative business organizations.
Discounts on beer provided by Dacha. Sample products from and network with: Amore Gelato, Udderly Nuts Almondmilk, Zenful Bites, Whisked, 2Armadillos Crispy Roasted Chickpeas.
DO GOOD Salon: Passion, Production & Purpose
Pre-Conference Kick-Off
May 8 / 6:00 p.m. - 9:00 p.m.
@ TBA
$35 (Includes Appetizers, Wine and Beer)
As a kick-off for our DO GOOD SUMMIT, please join us for a Happy Hour and Unplugged candid discussion with national and local producers Mary Walder of Mary's Gone Crackers, Cheryl Campbell of Eileen Fisher, Jon Wye of http://www.jonwye.com, and Rob Duncan of Dolcezza.
DO GOOD SUMMIT
May 9 / 8:00 a.m. - 5:00 p.m.
@ Wonder Bread Building (641 S Street NW)
Tickets range from $15 for individual events to $250 for a week-long non-member pass and can be purchased at: https://www.eventbrite.com/e/dogood2014-do-good-week-tickets-10547725531?ref=ebtnebtckt.
For more information about Think Local First, visit http://www.thinklocalfirstdc.com.