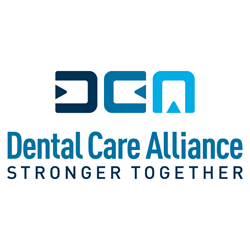 Sarasota, FL (PRWEB) May 05, 2014
Dental Care Alliance (DCA) is pleased to announce its affiliation with Dr. Doreen C. Wilson's Atlanta South Dental Design, located at 1233 Eagles Landing Parkway in Stockbridge, Georgia.
"It's a pleasure to be part of the DCA dental family. As our practice has grown over the past several years, I found myself engrossed heavily in the management of the practice, even on weekends, leaving very little time for my family. Also, the dental industry has been changing rapidly and requires more manpower to handle the regulations and guidelines imposed on the offices. I have researched many different options with the main purpose of delivering high quality of care, yet handle the ever increasing demands of accountability. My research led me to DCA, whose management capabilities and proven expertise, would allow me the freedom to care for my patients in the personal way that I enjoy, yet keep the practice on the cutting edge of the regulations and equipment. I look forward to our office's continued growth as we move forward within the DCA family," said Dr. Wilson.
Kevin Webb, DCA's Executive Vice President of Mergers and Acquisitions, said, "We are very happy that Dr. Wilson has joined with DCA. She has built a well-respected practice in the Stockbridge area of south Atlanta and we are excited to be able to provide the management support to her practice and allow her to focus on continuing to provide excellent patient care."
Formed in 1991 and headquartered in Sarasota, Florida, DCA provides practice management support to more than 150 affiliated general and specialty dental practices in Florida, Georgia, Virginia, Maryland, Indiana, Illinois, Michigan, and Pennsylvania.
###
Contact:
Kevin Webb
Executive Vice President of Mergers and Acquisitions
(877) 357-4569
webbk(at)dentalcarealliance(dot)com
http://www.dentalcarealliance.com