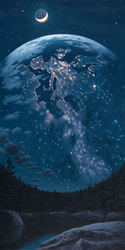 Gonsalves' art continually amazes viewers...there is no other artist out there who does what he does.
N. Bethesda, MD (PRWEB) May 07, 2014
One of the world's most talented living Magical Realists, Rob Gonsalves, will be at Huckleberry Fine Art signing books and sharing his newest art and prints. May 9, 2014 to May 11, 2014, Gonsalves will be available to talk with gallery goers about his whimsical and magical paintings.
Join Huckleberry Fine Art on Mother's Day Weekend for two evenings of daiquiris, doughnuts, and illusionary paintings. The event will take place on Friday and Saturday, May 9 and 10, 2014, from 7 p.m. - 11 p.m, and the artist will be signing books on Saturday and Sunday, May 10 and 11, from 11 a.m. – 6 p.m. Mr. Gonsalves' prints make a spectacular gift for moms, and the artist is available to personalize each one. The gallery is located on 12051 Nebel Street, Rockville, Md. 20852.
The art of Rob Gonsalves, described as Magical Realism, includes "Night Lights." The piece transforms your view from a starry sky to a scene of the lights of Europe from outer space. "Sailing Islands" shows rocky shores dotted with pine trees, and in the water there are large wooden ships seamlessly blending one into the other.
Gonsalves' art continually amazes viewers, and he has the waiting list to prove it. When he started with Huckleberry Fine Art 19 years ago, he was selling these imaginative paintings for $2,200 each. Now, if you want an original painting for yourself, you are placed on a waiting list; $50,000 and three years later, you will receive your own Original Gonsalves.
For the art connoisseur that has a more limited budget, there is still a way to collect Gonsalves' magical art through limited edition, signed and number giclée prints, which will be available at the show for purchase. The artist's illusions are reproduced onto canvas and paper, and then signed by Gonsalves. Today, 33,000 of his limited edition prints have sold, 11 have completely sold out and five more are on the "endangered species list" as Boots Harris, publisher of Rob Gonsalves' prints and owner of Huckleberry Fine Art, playfully puts it.
"There is no other artist out there that does what Gonsalves does," says Mr. Harris on why this particular artist has been so successful. "Now, with Gonsalves' newest painting, 'Night Lights', it is sure to stop viewers in their tracks."
About Huckleberry Fine Art
As the premier art gallery in the Washington, D.C., metropolitan area, Huckleberry Fine Art specializes in finding emerging artists locally and internationally. Since its existence, the gallery has been exhibiting a vast collection of vibrant oil and acrylic paintings, limited edition signed and numbered prints, sculpture, photography, art books and custom framing. Huckleberry Fine Art has established a successful publishing division with the introduction of artist Rob Gonsalves`s limited edition prints. For more information, visit huckleberryfineart.com.
Contact:
Kerilynn Vigneau
Huckleberry Fine Art
http://www.huckleberryfineart.com
301-881-5977