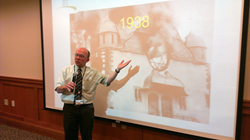 Many older Americans learned about the holocaust through plays and television programs, laudable in their day but hardly historical sources.
New Oxford, PA (PRWEB) May 05, 2014
Team members at Cross Keys Village are encouraged to share their passion with residents, notably through the Discovery Courses, a lifelong learning series of events and lectures covering wide-ranging subjects. On April 28, Vice President of Sales and Marketing Oliver Hazan had the great honor to offer villagers a presentation to commemorate Yom HaShoah, or Holocaust Remembrance Day.
Unlike many young adults, seniors understand the dynamics of World War II, and of the genocide of European Jews which is inextricable from the war. What then would be the goal in talking about the holocaust to a group of older adults who are basically aware of the facts? A temptation would have been to talk about specific victims, heroes, or even perpetrators, but Hazan decided to go the opposite way and his lecture was a plain Timeline of the Holocaust from 1933 (the seizure of power by the Nazis) to 1962 (the execution of Adolf Eichmann in Israel). Hazan explains he chose this date- and number-based format because he perceived a possible lack of overall proportion within the sources that had shaped the story of the holocaust in the consciousness of his students.
Past the shock of the early newsreels that reached the US in 1945, many older Americans learned about the holocaust through works like the Diary of Anne Frank, a 1955 Broadway play by Frances Goodrich and Albert Hackett (popular when Anne Frank's Diary of a Young Girl was unavailable in its original form), and Judgment at Nuremberg, a groundbreaking Playhouse 90 teleplay made in 1959. Such works were laudable in their day, but can hardly be considered historical sources.
Moreover, we understand today that the epicenter of the holocaust was the area that fell under the control of the Soviets after the collapse of the Reich, whereas older Americans received most of their information about the holocaust out of the regions that had been liberated by the Allies. This resulted, for the average American, in a keener awareness of the holocaust in France or the Netherlands than in Ukraine, Byelorussia, Poland or Latvia, for instance.
Therefore, last Monday, Hazan decided to turn on its head Joseph Stalin's hateful quip that "one death is a tragedy; one million is a statistic," and to draw as clear a picture of the tragedy of the six million as he could. 48 villagers sat through the grim review, and stayed for a lengthy question and answer session afterwards. The presentation turned out to be the best-attended Discovery Course since Cross Keys Village started the series a few years ago. The interest and the respect of the villagers, as confirmed in rapturous evaluation forms following the event, is an inspiration to all.