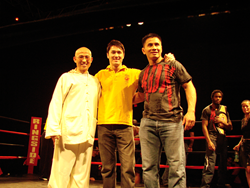 It has been 20 years since I hosted the first official US Open International Sanda/Sanshou Championship in the US.
Mobile, AL (PRWEB) May 07, 2014
In search for the next K. Superstar around the globe, KSF under Shaolin Chan Foundation in cooperation with the Shaolin Institute (http://www.shaolin-world.net) and other organizations will co-host and sponsor 25th US Open Challenge at the Mobile Civic Center on June 14, 2014 in Mobile, Alabama.
This event will be highlighting the ancient oriental fighting styles of Sanshou and Shaolin Sanda. These are Shaolin fighting styles that Grand Master Shi DeRu (Shawn X. Liu) has pioneered in the US for the last two decades.
Since its inception in early 1990s, Grand Master Shi Deru has held over thirty US Open Sanshou/Sanda fighting championship events here in the US, including eight professional "Art of War-K. Superstar" Sanshou/Sanda tournaments sponsored by Shaolin Institute and sanctioned by KSF.
The US Open Challenge event on June 14 at the Mobile Civic Center will actually provide two events in one. The day event will have competitions such as forms, weapons, light contact as well as continuous sport sparring with limited youth Sanshou. The night event, also called the "Main Event," is designed to search for the future best Shaolin Sanda/MMA professional competitors in this western hemisphere of the world.
"It has been 20 years since I hosted the first official US Open International Martial Arts Sanda/Sanshou Fighting Championship in the US," said Grand Master Shi DeRu. As a result, great fighters such as David Sanders and Cung Le have their fighting roots as champions in the US Open International Martial Arts Championships that started here in Mobile, Alabama.
Other fighters who have held championship titles within the US Open-K. Superstar competitions and the US Open International Martial Arts Championships are Patrick Barry and Melvin Guilard, both of whom became well known fighters in the UFC.
These UFC and MMA fighters among many other US Open event champions such as, K. J. Noon, Scott Sheeley, Mike Altman, Albert Pope, Aaron Honeycutt, Ruddi Ott, Max Chen, Albert Pope, Juan Zarate, Dustin Carbajal, Robert Pritchett, Li Jie, Li Qiang and Wael Karika Muhammed were trained under Grand master Shi Deru, and their fighting skills were honed and matured in the US Open Sanshou/Sanda International Championships. Click here for previous US Open-Art of War K. Superstar.
In the same fashion as when the first US Open competition began, the upcoming K. Superstar Search and US Open Challenge event will have all the excitement of a MMA fight. Yet, Shaolin Sanda fighting styles will require the fighters to demonstrate a higher & more exciting level of fighting skills by combining techniques of punching, kicking, kneeing, throwing, interception and grappling, which were demonstrated by Bruce Lee at his last movie "Enter The Dragon" Shaolin Temple Fighting Scene. Such technically skilled maneuvers as a "scissors kick" take down is just one of the exciting fighting techniques that the audience can witness first hand at the US Open Sanshou/Extreme Sanda competition. Click here for additional US Open Challenge video.
This event will not only be an exhilarating fight for an audience to see, but in the ring, it also allows martial artists of all styles, amateur or future professional competitors, from all over the world the opportunity to express and challenge themselves, and their skills and acquire new friendships at the same time in a sportsmanship manner.
"To empower yourself and find your greatest potential within, you must experience a test of challenges and difficulties laid in front of you so that you will endlessly increase your ability like the law of attraction." - Grand Master Shi DeRu.
Some of the highlighted activities on the event schedule for this competition event are as follows:
June 13, 2014
6:30 PM- 8:30 PM A fighters weigh-in ceremony at the Holiday Inn Downtown Historic District Hotel (The press/media and spectators are invited to attend)
June 14, 2014
9:55 AM Opening Ceremony
10:30 AM Commencement of Forms Competitions.
12:00 PM Commencement of US Open Challenge (Light Contact Continuous Sparring).
2:00 PM US Open Challenge (Sana for all Levels).
5:00 PM Conclusion of all Levels in Contact Competitions.
5:00 PM- 5:30 PM Awards Presentations.
5:30 PM Doors Closed/Set Up for Evening Show.
6:30 PM Doors Re-Opens.
7:00 PM Commencement of K. Superstar Search (Main Event).
8:30 PM Award Presentation by KSF
FYI please visit: http://www.facebook.com/KSFUSOpenChallenge2014 or http://www.artofwarsanshou.com.
Sponsored by Shaolin Institute & hosted by Shaolin Chan Foundation.