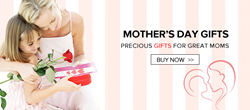 HK,China (PRWEB) May 06, 2014
In the run up to the most celebrated event of the year, TB Dress, an esteemed one-stop online store has announced a massive sale for Mother's day from May 9 - 12, 2014. This sale is to encourage its loyal customers to earmark the day by gifting something special to their respective mothers. As one of the established online shopping stores, TB Dress has opened the offer to its customers by giving discounts on dresses, jewellery and other accessories. The markdown on dresses ranges from 50% to 80% giving a basket of options to choose gifts for loved ones. In addition, TB Dress has also sweetened the offer by giving a coupon of extra 5% off.
Wangting, the owner of this growing online store said, "We want to reach out to a lot of people and believe that celebrated days such as Mother's day are a great way of indulging our customers. We want our customers to buy something for themselves and their mothers. It is our way of showing appreciation to our valued customers."
The offer includes discounts ranging from 50% to 80% on event dresses, dresses for women, and blouses. The sale also extends to accessories such as jewellery and shoes, where customers get 50% to 80% discount on select purchased items. TB Dress provides premier quality dresses at affordable rates, making it easier for the shopper to get value for money products. This three day sale gives the buyer enough time to go browse through a large variety of dresses offered by TB Dress Designs, before making the selection and purchasing the products.
TB Dress works towards presenting a wide variety of dresses that can cater to daily wear, office wear and even dresses for occasions such as parties, family get together, business conference and client meetings. TB Dress has been able to provide apparels that meet the current trends at prices that fit in the budget of the buyer. The one-stop online shopping store has been renowned for its customer satisfaction of providing the purchased order at the stipulated time and in pristine condition.