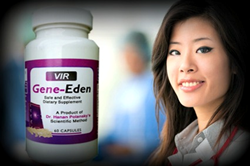 Individuals with diabetes may have an underlying EBV or CMV infection. We recommend asking the doctor for an EBV and CMV blood test. If positive, that person should ask the doctor about Gene-Eden-VIR and Novirin. - Mike Evans, polyDNA
Rochester, NY (PRWEB) May 07, 2014
polyDNA's latest survey found that 94% of respondents wanted to know if the herpes virus could worsen diabetes. The answer is yes and no. The genital herpes virus (HSV-2) has been shown to affect diabetes in some studies, but not in others. However, most research shows that two other herpes viruses do impact diabetes. These viruses are the cytomegalovirus (CMV) and the Epstein Barr Virus (EBV). polyDNA recommends that individuals with diabetes ask their doctor for a blood test to detect these viruses. If positive, they should ask their doctors about Gene-Eden-VIR and Novirin. The formula of these natural antivirals was shown to reduce symptoms of CMV and EBV infections in two separate post-marketing clinical studies that followed FDA guidelines.
According to recent research, both CMV and EBV play a role in diabetes and other chronic diseases. "Chronic inflammation and prior infections with herpes viruses are suggested to play a role in ageing, frailty, DM (diabetes mellitus) and CVD (cardiovascular disease)." (See Immunity & Aging, published July 23, 2013) (1).
In fact, "Prior infections with herpes viruses, HP (Helicobacter pylori) and CP (Chlamydia pneumonia) are reported to be associated with mortality (death, especially on a large scale) and morbidity (the relative incidence of a particular disease) (i.e. CVD, DM and frailty). DM was associated with two herpes viruses, i.e. HHV6 and EBV, and an association was demonstrated between frailty and CMV (1). In other words, studies found that people suffering from diabetes have more antibodies to these viruses in their blood. Research is still struggling to show how these viruses cause symptoms in those with diabetes. However, many scientists are working on such an explanation.
Another study from Ohio State University found that "as Epstein-Barr virus begins to multiply in cells in the body, it produces a protein called dUTpase that, in turn, can stimulate macrophages to make even more IL-6. The more IL-6 levels rise in the body, the greater a person's risk is for disease and IL-6 increases, as well as depression, have been associated with cardiovascular disease, osteoporosis and type-2 diabetes." (See the Ohio State University Website) (2).
What can EBV and CMV infected individuals do to help their immune systems target these viruses?
For EBV: "A few antiviral drugs are available that were shown to inhibit EBV replication in cell culture. These drugs include the acyclic nucleoside analogues aciclovir, ganciclovir, penciclovir, and their respective prodrugs valaciclovir, valganciclovir and famciclovir, the acyclic nucleotide analogues cidofovir and adefovir, and the pyrophosphate analogue foscarnet. However, clinical studies have shown that these drugs are mostly ineffective in humans." (See Pharmacology & Pharmacy, from September 2013) (3).
For CMV: "Several drugs are approved for the treatment of HCMV infections in immunocompromised individuals. These drugs include ganciclovir, its oral prodrug valganciclovir, cidofovir, foscavir and fomivirsen. However, the use of these drugs in immunocompetent individuals is limited by their toxicity, poor oral bioavailability, modest efficacy, and the development of drug resistance (3)."
polyDNA recommends the Gene-Eden-VIR/Novirin formula, since "as predicted, individuals infected with HPV, EBV, HSV, HCMV, and HCV reported a safe decrease in their symptoms following treatment with Gene-Eden-VIR (and Novirin) (3)."
"Individuals with diabetes may have an underlying EBV or CMV infection. We recommend asking the doctor for an EBV and CMV blood test. If positive, that person should ask the doctor about Gene-Eden-VIR and Novirin. The formula of these natural antiviral products was designed to help the immune system target the latent EBV and CMV viruses." – Mike Evans, polyDNA
As far as we know, the only two products currently available that target latent viruses are Gene-Eden-VIR, and Novirin.
Novirin shares the same formula as Gene-Eden-VIR. The difference between the two is that Novirin has higher quality, more expensive ingredients. The Novirin/Gene-Eden-VIR formula was tested in two post-marketing clinical studies published in September 2013 and March 2014, respectively, in the peer reviewed medical journal Pharmacy & Pharmacology (3).
Interested individuals can view the two published studies here, http://cbcd.net/Gene-Eden-VIR-Clinical-Study.php and http://cbcd.net/Gene-Eden-VIR-Decreases-Fatigue-Clinical-Study.php.
Up to 70% of those studied reported a decrease in symptoms associated with CMV infection, and users of the Novirin/Gene-Eden-VIR formula experienced an increase in overall health (3).
Each ingredient of Gene-Eden-VIR and Novirin was chosen through a scientific approach. Scientists scanned thousands of scientific and medical papers published in various medical and scientific journals around the world to identify the highest quality, safest, most effective natural ingredients that target latent viruses.
A second clinical study showed that the Novirin/Gene-Eden-VIR formula decreased physical and mental fatigue. (See Pharmacology & Pharmacy, from March, 2014) (4).
To learn more about Novirin, visit http://www.novirin.com and about Gene-Eden-VIR, visit http://www.gene-eden-vir.com.
All orders of these products are completely confidential, and no information is shared or sold to any third party. Privacy is assured.
References:
(1) Association of cytomegalovirus and other pathogens with frailty and diabetes mellitus, but not with cardiovascular disease and mortality in psycho-geriatric patients; a prospective cohort study. Published on July 23, 2013.
http://www.ncbi.nlm.nih.gov/pubmed/23880245
(2) Depression, Aging, and Proteins Made By a Virus May All Play a Role in Heart Disease
http://researchnews.osu.edu/archive/ebvheart.htm
(3) Gene-Eden-VIR Is Antiviral: Results of a Post Marketing Clinical Study. Published in September 2013. http://www.cbcd.net/Gene-Eden-VIR-Clinical-Study.php
(4) Gene-Eden-VIR Decreased Physical and Mental Fatigue in a Post Marketing Clinical Study That Followed FDA Guidelines; Results Support Microcompetition Theory. Published in March 2014. http://www.cbcd.net/Gene-Eden-VIR-Decreases-Fatigue-Clinical-Study.php
polyDNA is a biotechnology company that develops dietary supplements using the unique scientific method developed by Dr. Hanan Polansky, which is based on Computer Intuition.
In addition to his unique scientific method, Dr. Polansky published the highly acclaimed scientific discovery, called Microcompetition with Foreign DNA. The discovery explains how foreign DNA fragments, and specifically, DNA of latent viruses, cause most major diseases.
polyDNA developed Novirin, an antiviral natural remedy that helps the immune system kill latent viruses.