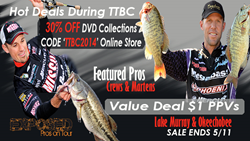 Anglers of all types and abilities benefit more now than ever
Yankton, South Dakota (PRWEB) May 05, 2014
President and CEO of ProPatterns, Inc., as well as Sondra Rankin, co-host of Exposed, are slated to attend the event. Profound Outdoors, which produces an array of premier outdoor gear and apparel, has partnered with ProPatterns to exhibit at this event as well. World class pro Tim Horton, founder of Profound and co-host of Exposed, is scheduled for a celebrity appearance and will share his knowledge with attendees on the importance of both companies to the industry. Tim shared this thought, "Anglers of all types and abilities benefit more now than ever because of technology innovations and professional anglers willingness to share".
The three-day Toyota Texas Bass Classic has become a popular tourney for fans. The event not only brings the top names in the sport, but also boasts a wide variety of family friendly activities. Each night the TTBC features top musical talents. This year, Pat Green, Little Big Town, and Justin Moore are the headlining acts. Proceed benefits for the tournament serve the Texas Parks and Wildlife Department.
Exposed anglers who will be competing in the TTBC include Hank Cherry, Jason Christie, John Crews, Ott DeFoe, Brent Ehrler, Alton Jones, Bobby Lane, Aaron Martens, Mike McClelland, Ish Monroe, Brandon Palaniuk, Matt Reed, Fred Roumbanis, Terry Scroggins, Kelly Jordan, Brian Snowden, Gerald Swindle, Todd Faircloth and defending Champion Keith Combs.
Over the past three years, these Elite pros have given fans of the sport a behind-the-scenes look of their process in studying and dissecting tournament waters across North America. The Exposed series follows top anglers on the practice days leading up to tournament competitions, offering a unique blend of education and entertainment, as the pros offer insight into how they study the conditions on the water, dissect patterns, and prepare for tournament action.
All three seasons of Exposed can be found for pay-per-view at http://www.ProPatterns.com. ProPatterns Elite subscription members have full access to season 3 for FREE as part of their membership package. The first and second seasons of Exposed are also available on DVD.
In celebration of the TTBC, ProPatterns is offering several hot deals for those who cannot attend the Classic. From now until May 11, all Exposed DVD collections have been discounted 30%. Pay-per-view Exposed episodes featuring John Crews at Okeechobee and Aaron Martens at Lake Murray are being featured at http://www.ProPatterns.com at the discount rate of one dollar.
Though its roster continues to expand with each new season of Exposed, ProPatterns is also on the hunt for undiscovered talent. Fans who think they have what it takes to compete with the pros have the opportunity to become exposed with the Exposed Eligible? film contest. The film contest offers fans the chance to submit videos showcasing their talents. The grand prize for the contest includes a day of filming with professional angler and television personality Timmy Horton. Contest entries will first be voted on by the general public. The top ten Exposed Eligible? films will be judged by Exposed pros.
About ProPatterns, Inc. and Exposed:
ProPatterns, Inc. is a leader of angling education by sharing professional fishing tips, industry information and member services online. In addition, ProPatterns offers prize filled competitions, sharing of information among peers, and connections to industry professionals and media through means available nowhere else.
Information is gathered from various sources and disseminated with members in a variety of ways. The Exposed video series, for example, gains all of its integrity from an alignment with the biggest names in the bass fishing industry including professionals who fish with BASS, FLW, and PAA. Cooperation from the anglers and their willingness to share is the catalyst for the growth of this series.
For Exposed Eligible? contest information and rules, the Exposed video series, and all other ProPatterns offerings, and to become an ELITE or Social ProPatterns member, please visit http://www.ProPatterns.com