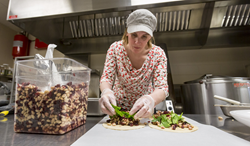 We'll be making these winning recipes available to school foodservice employees across the country through our School Food Service Toolkit. - Scott J. Soares, Executive Director, CMC.
Wareham, MA (PRWEB) May 07, 2014
Since the start of 2014, the Cranberry Marketing Committee USA (CMC) has been scouting the culinary corners of the nation to discover creative cranberry themed recipes that K-12 kids will like and which meet school nutrition guidelines.
The search began in February with a Latin-themed student-chef competition held at The Culinary Institute of America in St. Helena, California. It brought forth a winning cranberry turkey picadillo that did not disappoint – nor did the second place cranberry quinoa honey bar or the cranberry braised pork stuffed pepper that placed third.
The latest winning recipe comes from Ingrid Rockwell, a cook at Deerfield Elementary School in Deerfield, Wisconsin. Ms. Rockwell was declared the $2,000 grand prizewinner in the 2014 Cranberry Marketing Committee / Wisconsin School Foodservice Cranberry Recipe Contest. Wisconsin school foodservice professionals submitted their best school foodservice recipe featuring cranberries, a Wisconsin-grown fruit. Rockwell came out on top for her "Cranzy Chicken Taco," a sweet and savory medley of cranberry Parmesan chicken topped with dried cranberry bean salad and cranberry mayonnaise.
The CMC, in partnership with the Wisconsin Department of Public Instruction, School Nutrition Team asked Wisconsin school foodservice employees to "Get Their Cran On!" in this first-ever school foodservice U.S. cranberry recipe contest. Rockwell was awarded $1,000 for herself and another $1,000 for her school. Two runners-up won $500 for themselves and another $500 for their schools.
"This contest celebrates school foodservice professionals and their efforts to provide students with great tasting, nutritious meals. I was amazed at the creative, kid-friendly recipes that featured U.S.-grown cranberries and adhered to USDA school lunch guidelines. The CMC will make these recipes available to school foodservice employees across the country through our School Foodservice Toolkit," said Scott J. Soares, Executive Director of the Cranberry Marketing Committee USA.
Winner Ingrid Rockwell loves cooking with cranberries for their tartness and great versatility in sweet and savory dishes. Though she has only worked in school foodservice for eight months, Ingrid is no stranger to the hustle and bustle of a lunch rush, having owned and operated a food cart at the Dane County Farmers' Market for nine years.
Runner-up Diane Swiontek, Foodservice Manager at Clayton School District created a Cranberry and Cilantro Quinoa Salad. Pamela Zuberbier, Head Cook at St. Peter's Lutheran School in Fond du Lac earned the other runner-up spot for her fruity Razzy Cran-Grape Gelatin.
"These winning recipes demonstrate the passion our school foodservice professionals have for their work. We were thrilled to see schools develop such creative and healthful recipes with a fruit native to Wisconsin," said Julie Cox, RDN, CD, Assistant Director of the Wisconsin Department of Public Instruction, School Nutrition Team.
About the Cranberry Marketing Committee, USA (CMC)
The CMC was established as a Federal Marketing Order in 1962 to ensure a stable, orderly supply of good quality product. Authority for its actions are provided under Chapter IX, Title 7, Code of Federal Regulations, referred to as the Federal Cranberry Marketing Order, which is part of the Agricultural Marketing Agreement Act of 1937, as amended. This Act specifies cranberries as a commodity that may be covered, regulations that may be issued, guidelines for administering the programs, and privileges and limitations granted by Congress. For more information about the CMC, visit http://www.uscranberries.com. Follow at http://www.twitter.com/uscranberries and http://www.facebook/cranbecravers.
About the Wisconsin Department of Public Instruction, School Nutrition Team
The Department of Public Instruction is the state agency that advances public education and libraries in Wisconsin. The Wisconsin Department of Public Instruction, School Nutrition Team provides nutrition information and program guidance to sponsors of the National School Lunch Program, the School Breakfast Program, the Special Milk Program, and the USDA Food Distribution Program. The Team is also responsible for a variety of nutrition education initiatives that involve collaboration with other state agencies, UW-Extension, and regional and statewide child nutrition advocacy groups.