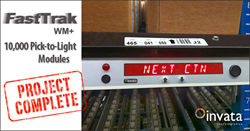 Invata's systems delivered... The transition from the old to new system was accomplished without a hitch.
Conshohocken, PA (PRWEB) May 06, 2014
Invata Intralogistics, Inc., a global provider of purpose-built intralogistics systems, supply chain/facilities optimization, and warehouse software and controls, today announced it has completed the modernization of a nearly 10,000 module Pick-To-Light system and associated retrofit of its FastTrak® Warehouse Software in the Chattanooga, Tennessee distribution center of the global leader in hair care, Regis Corporation.
Regis Corporation has been utilizing Invata's pick-to-light systems in its Chattanooga location since 1998, steadily growing its business and servicing its locations, so stylists and staff can provide guests with the products they want. The modernization of the pick-to-light system and retrofit of Invata's FastTrak software allows Regis to continue the service levels they have come to expect, while taking advantage of new opportunities for productivity.
The system will accommodate comparable growth and service levels, while maintaining the 24/7/365 level of support Regis Corporation has enjoyed working with Invata to date. Invata planned and executed a seamless, disruption-free roll-out of the new FastTrak-controlled Pick-to-Light system on an aggressive timeline. In doing so, Invata replaced nearly 10,000 existing Pick-To-Light modules and transitioned the Regis distribution operation to the new features and productivity tools in FastTrak WM+ Warehouse Software.
"Regis' operations, along with the large quantity of Pick-To-Lights, put huge demands on warehouse software, which gives FastTrak the chance to stand out," said Lee Kuhn, COO of Invata. "We have had a long relationship with Regis Corporation and have come to know their operations very well. It is a pleasure to have worked with them through this transition, and we anticipate future projects leveraging the capabilities of FastTrak and our organization."
"Our goal is to provide our salon guests with product they want, so it's important that we have a system that anticipates product needs for all of our brand locations," said Bruce McMahon, vice president of logistics at Regis Corporation. "Invata's systems delivered on our goal and we are very confident that this is the best platform for our future. The transition from the old to new system was accomplished without a hitch, and we look forward to the service, flexibility, and capacity for productivity enhancements this provides us in the future."
About Invata Intralogistics
Invata Intralogistics, Inc. is an authority in the design, implementation, and life cycle support of automated fulfillment and distribution center operations with demonstrable expertise in both software and systems engineering and development.
Specializing in the symbiotic integration of the flow of information with the flow of material goods, Invata offers complete solutions that begin with in-depth operational analysis and end with purpose-built, turnkey intralogistics systems that optimize processes and resource utilization while maximizing operational efficiency.
The result is a seamless synthesis of process and technology that engenders leaner, more productive, more adaptable, and more profitable fulfillment and distribution enterprises.