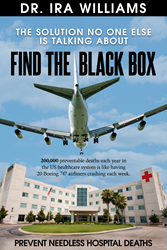 "SC Governor Haley illustrates the need for each state to find their state's medical practice regulatory black box."
Greenville, SC (PRWEB) May 06, 2014
Find The Black Box (http://is.gd/UK4Uk0), the title of Dr. Williams' third book on health care specifically targets how MADD can cause state governments to increase the regulatory efforts to better control impaired drivers. Williams believes those same governments need to apply similar concern regarding the well-recognized crisis of harmful patient care by finding their medical regulatory black box.
Dr. Williams continues his series of Open Letters (http://is.gd/wdU2CM) focused on the ever increasing plight of needless hospital deaths. He uses two illustrations in Chapter One of his book to demonstrate the public benefit of consistent efforts by MADD, and also the scarcity of similar efforts to force state governments to find their medical practice black box, and implement improvements in the quality of health care, and patient safety. Needless deaths, regardless of cause, demand regulatory constraint.
Dr. Williams says, " The contrast between South Carolina's efforts to improve their regulatory efforts in controlling impaired drivers, and the absence of efforts to take similar measures in patient safety deserves consideration. The latest estimate of needless hospital deaths (http://is.gd/GzKOg3) is quadruple the original annual estimate of 1990, and three patient safety leaders (http://is.gd/Gag91b) rapidly supported that estimate. Yet no individual state can provide credible evidence of how much their state contributes to those tragedies. After a quarter of a century of concentrated effort the public is still left with only highly speculative, and ever increasing estimates."
Dr. Williams continues, "State's DUI regulatory mechanism authorizes city police, county sheriffs, and highway patrolmen to endeavor to police impaired drivers. Governor Haley shows how periodic legislative improvements in each state's regulatory mechanism is demonstrated by the recent enactment of Emma's Law. But neither SC, or any other state, can show similar efforts to improve their regulatory mechanisms for the practice of medicine."
Find The Black Box identifies multiple reasons why every new estimate of needless hospital deaths is greater than all previous estimates, including what has always been missing in those efforts, and offers a solution no one else has been talking about.