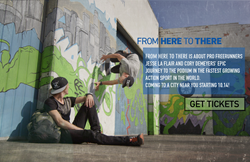 We're excited to get our story and our sport onto the world stage, taking steps towards making Freerunning a recognized action sport worldwide.
Los Angeles, CA (PRWEB) May 06, 2014
Best friends and professional freerunners, Jesse LaFlair and Cory DeMeyers, announced today that they will embark on a worldwide tour this fall promoting their feature length documentary, FROM HERE TO THERE. The film is helmed by La Flair and DeMeyers as directors, produced by J. Zakira Wise (RUN), and edited by Carol Martori (WAITING FOR LIGHTNING, SOUND CITY).
The film highlights two of the world's most accomplished freerunners during their very successful 2013 International Freerunning and Parkour Tour, while also bringing a spotlight to a sport on the brink of mainstream explosion. A screening of the documentary will be at the forefront of each city layover, with jams, after parties and local training sessions to supplement. Tickets will be sold on the documentary's Kickstarter Page through the end of May. A variety of perks, including merchandise and one-of-a-kind experiences, are also available.
Jesse LaFlair, a Long Island, NY native, is the number one most subscribed to Parkour and Freerunning athlete on YouTube, making him one of the most recognizable international Freerunning athletes in the world. He joined the world famous Tempest Freerunning as a Pro Team Athlete in 2012. In 2013, he set a record for the highest scored run at the Red Bull Art of Motion in Santorini, Greece, landing him a Best Trick Award and 3rd Place in the finals. He also placed 1st for the Team Freestyle with Cory and 3rd Place Overall Speed Course at the Visions Classic.
Cory DeMeyers hails from Michigan and won 5 World Championships in Martial Arts by the time he was 18. He discovered Freerunning after moving to LA and has been pioneering new styles of movement ever since. In 2012 he joined Tempest Freerunning as a Pro Team Athlete and in 2013 he became the 1st American to win the Red Bull Art of Motion. He also placed 1st in Team Freestyle at the Visions Parkour Classic with Teammate Jesse LaFlair.
"The thing that excites me the most about FROM HERE TO THERE is we will have a chance to personally connect with and inspire 100,000's of kids all over the world," says La Flair. DeMeyers agrees, "I would love for our story to connect with freerunners and fans and inspire everyone else who has ever had to overcome obstacles to chase a dream."
For more information and to purchase tickets: http://tinyurl.com/fh2tdoc
Find us on Social Media: #fh2tdoc