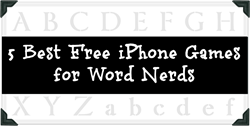 (PRWEB) May 09, 2014
There are thousands of apps available in the Apple store, but the independent book review website, The Book Wheel, narrows down the options by reviewing 5 iPhone Games for Word Nerds. The games are great for those who love the English language, including readers, writers, and educators. Complete with screenshots and descriptions, the apps that made the list include word searches, quiz games, and word-creation games.
ABOUT THE BOOK WHEEL:
The Book Wheel is a Denver-based, independent book review site with an emphasis on current events, literary fiction, and political non-fiction.