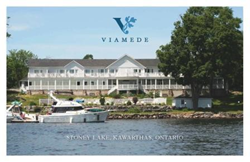 ...we were thrilled to become a member of Ontario's Finest Hotels, Inns and Spas. We also received a Certification of Excellence Award from TripAdvisor
Kawartha Lakes, Ontario (PRWEB) May 04, 2014
With the completion of a massive renovation and rejuvenation project this winter, Viamede Resort (http://www.viamede.com), a century–old historic resort hotel on Stoney Lake in the Kawartha Lakes tourist region, celebrates their grand-reopening starting on Thursday, May 8, 2014 with a weekend of festivities and special events. Viamede owner and innkeeper Ben Sämann is pleased to unveil the results of his ambitious restoration and improvement project at the resort and is happy to announce that Chef Kevin McKenna has been hired to lead the resort's culinary team, overseeing Viamede's three restaurants, including their fine dining room The Inn at Mount Julian.
The extensive renovation program at Viamede Resort included substantial improvements to the resort's suites and guest rooms, cottages and public areas, both inside and out. All guest rooms and cottages have been refreshed with new flooring, renovated bathrooms and new handcrafted furnishings. In the public rooms of the resort, new carpet has been installed, and the dining room has received a thorough make-over. To give Stoney Lake resort a more uniform look, many of the buildings throughout the resort have received new steel roofs. Other improvements include the addition of new marina docks, new electronic door locks, and more.
"I am very pleased with the results of our renovations. The goal for our renovation project was to retain Viamede's old-world charm, but bringing the resort into the twenty-first century. I believe we have done that and more. It is all part of our long term plan for the resort; to make Viamede one of the finest resorts in Ontario. Last June, we were thrilled to become a member of Ontario's Finest Hotels, Inns and Spas. We also received a Certification of Excellence Award from TripAdvisor," states Sämann.
Viamede Resort's grand opening weekend begins Thursday, May 8th with a program for Event planners to introduce them to the new and improved Viamede. They will have the opportunity to tour the resort's weddings, conferences and special events facilities and sample the resort's remarkable cuisine. Friday, Saturday and Sunday is for invited VIPs guests and local politicians, including Peterborough MP and Parliamentary Secretary to Prime Minister Harper, Dean Del Mastro. Throughout the weekend, guests can explore the resort and take part in a variety of special events and activities like Frisbee golf, camp fires, wine tastings, and live music. A number of special meals have been planned for the occasion by Viamede's new Executive Chef Kevin McKenna, including a spectacular pig roast buffet dinner on Saturday night.
A graduate of the Niagara on the Lake Culinary School, Executive Chef Kevin McKenna has over 15 years of experience working in the kitchens of fine restaurants and four star resorts with some of Canada's top chefs, including Chef Michael Stadtländer, Chef Boehmer of the Spoke Club and Chef Michael Potters at Harvest. McKenna was a founding member of the Group of Seven Chefs Ltd., a group of like-minded chefs who staged pop-up themed dinners once a month in Toronto and, in 2012, were invited to New York to cook at the James Beard House.
"We hired Kevin as Viamede's executive chef because of his passionate for creative "farm to table" cuisine and his commitment to using only the finest and freshest ingredients in everything that he prepares. It is a philosophy that we whole-heartedly support. Viamede's onsite farm produces many of the food products used in our kitchens. Our Tamworth pigs, Indian Runner ducks, Heritage Bronze turkeys, quail, and various heritage breeds of chicken all appear on the menu from time to time. Heirloom tomatoes, peppers, garlic, onions, fresh herbs, micro-greens and other vegetables which we grow ourselves are used as often as possible. The Viamede property is spread over 165 acres of land and offers a treasure trove of nature's finest gourmet delights like wild leeks, wild onions and fiddleheads. I believe the Kevin has found the perfect environment to create outstanding cuisine and elevate Viamede's already stellar reputation for fine dining to even greater heights," says Sämann.
About Viamede Resort: One of Ontario's Finest Hotels, Inns and Spas, Viamede Resort is a historic full-service hotel and conference centre with over 50 private rooms and cottages on the shores of beautiful Stoney Lake. Located in the Kawarthas, just thirty minutes outside of Peterborough, this landmark resort hotel boasts three restaurants, a full-service spa, convention facilities, wedding chapel, heated pool, marina, working farm and 165 acres of pristine wilderness. To learn more about Viamede Resort's many fabulous vacation packages and accommodation specials, visit (http://www.viamede.com) or call toll free 1-800-641-1946.
Contact Information:
Ben Sämann
595 Mount Julian Viamede Road
Woodview ON K0L 3E0