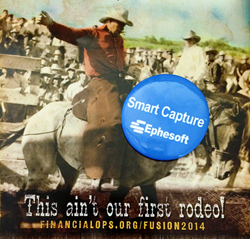 LAGUNA HILLS, Calif., (PRWEB) May 05, 2014
Ephesoft Inc., an industry leader in providing Smart Capture™ advanced document solutions, will exhibit at the Institute of Financial Operations' Fusion Conference. This national gathering of financial operation professionals will be held May 5 - 8 at the Gaylord Texan Resort and Conversion Center in Dallas, Texas. Ephesoft will show off their Smart Capture™ solutions with 'real life' document demonstrations using the latest software version 3.1.
"Automating invoice processing has been a target for Ephesoft since the beginning. Our new v3.1 release automates this process even further," says Don Field, Ephesoft CEO.
"Our tight integration with ERP systems is significant, meaning customers can continue to use the workflow they already have versus buying another one," continued Field. "We believe the combination plus our low cost, mass market approach opens automation to companies of all sizes and accounts ensuring our strong growth."
Home of the third-largest concentration of Fortune 500 companies in the nation, Fusion 2014 could not be held at a better location! Stop by Ephesoft's booth (#124) for a demonstration of the latest software in document capture. For more information or to register for Fusion 2014 Conference, visit: http://www.financialops.org.
About Ephesoft:
Ephesoft, Inc., delivers our exclusive Smart Capture™ intelligent capture technology on-premise or in a SaaS model. With a focus on efficiency and reliability, Ephesoft has crafted the next generation of intelligent document capture in a simple and cost effective application. Ephesoft's use of open standards and web-based software offers extreme flexibility and accessibility for a wide range of customers. Our superior classification technology allows organizations to automate and streamline mailroom processing and other document-based business processes. Ephesoft software captures and extracts data from unstructured documents with ease, adding another layer of efficiency and cost-savings to your operation.
Ephesoft is headquartered in Laguna Hills, California, with additional offices in Reading, England. The company is undergoing rapid growth in both the US and EMEA markets. To learn more, please visit http://www.ephesoft.com.