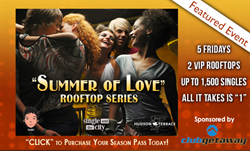 Love truly is a numbers game. The more singles you meet, the more likely you are to hit it off with someone. The good news is it only takes one.
New York City, NY (PRWEB) May 05, 2014
5.5MM New Yorkers representing approximately 28% of the population find themselves single in New York and will be looking for love this Summer.
Committed to helping many of these single New Yorkers connect, online dating services SingleAndTheCity and OnSpeedDating are gearing up to host a Summer Rooftop series of singles parties consisting of five Summer Friday dates at two of NYC's hottest VIP rooftops, Hudson Terrace and Toshi's Penthouse.
"Despite being such a large city, NYC isn't the easiest place to meet people," explains New York single and Marketing Director, Samantha Schiffer, 35. "Summer is the one time of year that I get a little breathing room at work and actually have some time to get out and be social. I live for Summer Fridays and having a place to go to meet other singles makes it that much sweeter."
The VIP Rooftop Parties kicks off Friday, May 30th at Hudson Terrace and will conclude Friday, September 19th at Hudson Terrace with 3 Friday dates in between.
This Summer series boasts drink specials, complimentary hors d'oeuvres, professional photography, dancing, mingling and ice breakers designed to be a catalyst for conversation. Singles can also learn about their relationship 'past, present and future' through "Love & Sex" Tarot readings provided by renowned psychic and NYC Love Guide, Maria Pirone.
The Tri-state's premiere vacation spot, Club Getaway, is sponsoring the VIP Rooftop series and CNN featured celebrity trainer, Stephanie Bellinger will also be on-hand for many of the event dates offering singles fitness advice and the chance to walk away with complimentary passes to her popular NYC Boot Camp classes.
"Love truly is a numbers game," says SingleAndTheCity Co-Founder, Amber Soletti. "The more singles you meet, the more likely you are to hit it off with someone. The good news is it only takes one."
WHAT: "Summer Of Love" Rooftop Singles Parties
THE SCHEDULE:
Friday, May 30th @Toshi's Penthouse
Friday, June 27th @Hudson Terrace
Friday, July 25th @Hudson Terrace
Friday, August 22nd @Toshi's Penthouse
Friday, September 19th @Hudson Terrace
TIME: 6:00 pm- 10:00pm
WHERE: Hudson Terrace – 621 West 46th St
Toshi's Penthouse – 1141 Broadway
REGISTRATION & COST: Pre-registration at OnSpeedDating.com and SingleAndTheCity.com. Tickets run $25.00 online /$40.00 at the door (pending availability). Season pass options offer singles a 24-40% savings incentive to purchase tickets in advance for multiple party dates.
SingleAndTheCity.com is a new dating event concept created for savvy, swinging, city-dwelling singles who are tired of events geared to traditional criteria, like age range, income and personality IQ. What sets SingleAndTheCity.com apart is its ability to foster personal connections: Events match participants with other singles who share similar interests, backgrounds, quirks–even fetishes–and a passion for meeting new people and having fun. This online company produces singles parties, networking events, speed dating, wine tastings, dating advice and much more for singles of all orientations across Manhattan and the five boroughs.
SingleAndTheCity.com is a division of OneStop Singles LLC, which offers speed-dating events through its NYC, based OnSpeedDating.com division. OnSpeedDating.Com delivers quality and quantity by offering its diverse NYC clientele themed speed dating NYC events like "Have Passport, Will Travel," "Wing Women," "Inked" (speed dating for tattooed singles), and "Size Matters," (for guys and gals with a hankering for height.) Between the two dating services, NYC singles can to attend six to eight events per month with admission prices ranging from $30-40.00.