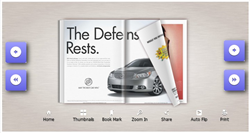 (PRWEB) May 05, 2014
FlipHTML5.com, a Hong Kong software supplier, introduces great animation editor functions for its PDF to HTML5 magazine converter. The software now can create interactive magazines and catalogs with rich animation effects.
The FlipHTML5 is an impressive PDF to HTML5 magazine converter which provides both the Windows and Mac version. The software has powerfully amazing characteristics to create interactive HTML5 magazines and catalogs.
Both magazines and catalogs have been around for a while. However, to add animation to these creations can only make them better and more engaging. For example, when a user creates a catalog using the FlipHTML5 Animation Editor, they can showcase their products in attractive eye-catching animations. A view of this great feature is available at YouTube: FlipHTML5 Animation Editor: Enrich Flip Book Has Never Been So Easy.
In regards to Animation – both Google dictionary definitions of the word can apply to this Flip Book function. One definition indicates that animation means a state of being full of life or vigor. The other definition indicates that it is a technique of taking pictures of successive drawings or positions of models or puppets to create an illusion of movement when the movie is showcased as a sequence.
The reason animation does so much to enhance flip book software is that movement is attractive to the eye; meaning it gets people's attention. Still images just don't hold people's attention in the same way that animation does. When one considers the popularity of YouTube and similar video sites compared to sites where still images are shared, they see support for this argument. There's no comparison to the engaging, magnetizing impact of animation or action. Movement enhances images, plain and simple.
One of the most popular aspects of the already compelling software is the Animation Editor. With FlipHTML5 Animation Editor, users are enabled to add rich media to the flip book and astonish viewers. It also allows them to display the flexibility of the media using the Time Line.
When users are equipped to embed objects, like text and video to display these effects at pre-set times, they are well on their way to providing professional level projects that don't seem to have been created outside of a studio or without extensive training. The animation feature compares to what someone with HTML training could do a few years ago. Now, the playing field is leveled with this software.
This feature is also leagues beyond what one can get with Power Point Presentations. Learn more software features, go to http://fliphtml5.com/.