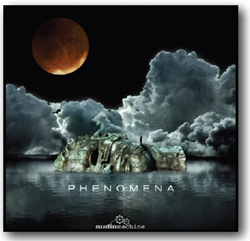 At some level, every cinema-goer hopes to get a little courage and hope from the experience. Those are the essential ingredients of every track of this audiomachine release of epic trailer music.
Los Angeles, CA (PRWEB) May 06, 2014
audiomachine announces the May 6 release of Phenomena, an 18-track album of heart-stopping film trailer music by composer Paul Dinletir.
Music from Phenomena has been used recently in trailers for 300: Rise of an Empire, Draft Day and Philomena, as well as NBC's opening ceremony broadcast of the 2014 Sochi Winter Olympics.
Phenomena was brought to life in London's Air Lyndhurst Studio with the seismic beat of 10 concurrent percussionists, a 90-piece orchestra and 80-voice choir.
audiomachine's compositions can be heard daily on radio, television, online media and in theatres. The Los Angeles-based music collective's volcanic works are regularly featured on top movie trailers including Avatar, The Hobbit and Noah.
Phenomena track listing
1. Blood and Stone (as featured in the trailer for 300: Rise of an Empire)
2. Ice of Phoenix
3. Red Sorrow
4. Whispers of Wonders
5. Deep Heart (as featured in NBC's Sochi Olympics opening promo)
6. Legends of Destiny
7. Seeds of Promise
8. Lords of Lankhmar
9. Crossing Destiny
10. Gathering of the Clans (as featured in the trailer for Draft Day)
11. The Last Ember
12. Above and Beyond
13. Drakon's Empire
14. Fortress of Solitude
15. Epiphany (as featured in the Philomena trailer)
16. God of the Drow
17. Journey Through the Portal
18. Legacy of the Lost
A portion of the proceeds from each Phenomena sale will be donated directly to the Los Angeles Youth Orchestra, an organization that helps enrich the lives of students through the power of music.
audiomachine is a boutique motion-picture advertising music production collective. It specializes in original epic music and bone-crunching sound design specifically created for theatrical trailers, television commercials and video game advertising campaigns.
Phenomena is available at iTunes, Amazon.com and CDBaby.com
For further information, please contact publicity(at)audiomachine(dot)com.
facebook.com/audiomachine
twitter.com/audiomachine
youtube.com/audiomachine
http://www.audiomachine.com
publicity(at)audiomachine(dot)com