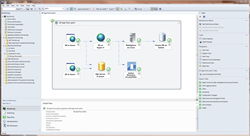 Running System Center Operations Manager 2012 R2 and BlueStripe FactFinder together allows IT Operations to see their applications and infrastructure together on a single screen
Research Triangle Park, NC (PRWEB) May 05, 2014
BlueStripe announced that it has solved the long running conflict between the needs of IT Operations teams and available APM tools for managing production application operations. BlueStripe's newly announced management views available through Microsoft Corp. System Center Operations Manager 2012 R2 bridge the gap between managing business applications and the underlying infrastructure platforms.
FactFinder provides automatic business application maps, unlimited cross-system and cross-platform monitoring, and real-time performance status views for applications and groups of applications. When combined with System Center 2012 R2's detailed infrastructure performance data, the result is a unified monitoring system tailored for stakeholders ranging from IT Operations teams to IT and line-of-business executives.
BlueStripe's advanced Application-Aware Infrastructure Performance Monitoring capabilities give each IT stakeholder the right data to manage application performance without requiring knowledge of code or architecture. IT Operations teams see automatic views of application topologies and response time performance tracking down to the individual infrastructure component for every application in the datacenter. IT executives see service level performance reports for all critical applications and transactions broken out by IT organization. Finally, line-of-business executives see simple real-time status views of their customer-facing business applications and the IT components behind them.
Building on FactFinder's previous integration with System Center 2012 R2, the new capabilities allow rapid deployment of performance dashboards tailored to the responsibilities of each user type. For each application shown, the new dashboards display application and tier overall health status, dependency alerts, average response times and trends, and application loads and load trends.
In System Center 2012 R2, the new dashboards combine FactFinder's application performance data with infrastructure data from System Center Operations Manager 2012 R2, including health monitoring status for Microsoft Azure-based components. With these application-aware views of infrastructure performance, System Center 2012 R2 users have a single management screen with consolidated views of application and infrastructure performance.
"Today's FactFinder release shows how application-aware IT performance monitoring helps streamline IT Operations through dashboards of their own business applications," said Chris Neal, co-founder and CEO of BlueStripe Software. "Whether consolidating business application management into System Center or showing customer experience data to a business executive, FactFinder provides a real-time view into how applications are performing."
FactFinder continuously tracks distributed applications, providing real-time dependency maps, and performance monitoring of all business transactions running within the data center and across the Cloud. FactFinder measures performance, hop-by-hop, everywhere that transactions go, across tiers, across platforms, and across architectures – even into public, private, and hybrid cloud, as well as third party services. When performance or availability problems occur, FactFinder follows the slow or hung transaction right to the problem component, and then drills down the server stack to determine why the problem occurred.
"Running System Center Operations Manager 2012 R2 and BlueStripe FactFinder together allows IT Operations to see their applications and infrastructure together on a single screen," said Daniel Savage, Principal Program Manager of Microsoft's Cloud and Data Center Group. "With the new integrated dashboards, the value of the solution can be extended to other System Center users."
A member of the System Center Alliance, BlueStripe has delivered integrated solutions with the Microsoft System Center family of products for several years. While each solution can stand alone, together FactFinder and System Center 2012 R2 make a powerful combination for IT Operations teams of all sizes.
About BlueStripe
BlueStripe Software helps IT Operations teams map, monitor, and fix distributed applications. A leading Application-Aware Infrastructure Performance Monitoring solution, BlueStripe's FactFinder manages service-level performance by tracking transactions as they move across the application infrastructure. With FactFinder, IT Operations teams move from monitoring infrastructure resources to managing service-level performance for critical applications. For additional information, please visit http://bluestripe.com.