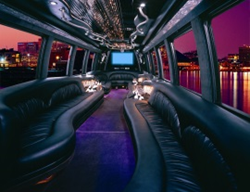 Vancouver, BC (PRWEB) May 06, 2014
Royal Limo Vancouver is proud to announce the addition of a new special service for its clients in the Vancouver area and surrounding cities. In addition to its transportation services and specials for events such as weddings and graduations, Royal Limo Vancouver is now providing a luxurious sightseeing option at a special rate, for those interested in touring around the more beautiful areas of Vancouver. That means that clients interested in seeing the best that Vancouver has to offer, including Stanley Park, UBC Campus, Gas Town, Robson Street, Granville Island and Chinatown, can do so in a luxurious limo, packed with amazing features and style.
Visitors to the Vancouver area can often be overwhelmed with the sheer number of options to choose from. Royal Limo Vancouver's sightseeing special makes life far easier for people looking to get out for a special night, or visitors to the area who are looking to make their trip to the city even more special than it would have already been.
There are three choices for luxury vehicles from Royal Limo Vancouver. The first is a fantastic six passenger Cadillac Escalade. The second is a larger and unforgettable thirteen passenger limousine, and the final option is the largest of them all; a twenty passenger party bus with every available luxury. Each choice provides two hours of taking in Vancouver's best sights.
About Royal Limo Vancouver
With a full fleet of luxurious vehicles for customers to choose from, Royal Limo is Vancouver's best choice for limousine and luxury vehicle rental. Royal Limo Vancouver services all the major cities of the lowe mainland, and each vehicle features an array of luxury amenities for clients to enjoy. Rates are competitive and the service is excellent.
To find out more about Royal Limo Vancouver, please visit http://www.royallimo.ca.