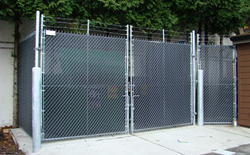 QS Fencing will work with you to determine the type of picket fence you need or repair your existing fence.
Vancouver, BC (PRWEB) May 07, 2014
QS Fencing has recently launched its new range of picket fences, Vancouver. These fences can be used to beautify and decorate a residential property or garden. The new range of picket fences falls under QS Fencing's line of ornamental products, which are high quality and stylishly designed security fences. QS Fencing's new range of picket fences can be installed along the perimeter of the yard in order to contain pets and children, without hindering the view or stopping the sunlight from entering the property. Vancouver fences are a great way of adding curb appeal to the residential property.
Picket Fence Design
Picket fences, Vancouver are elegantly designed enclosures consisting of evenly spaced vertical boards. These vertical boards are called pickets. Pickets are attached to horizontal rails, supported by fence posts in order the structure a steady shape.
Picket fences in the past were made of fine quality wood. However, wood fences often need regular painting and maintenance in order to preserve their look. To avoid this inconvenience, QS Fencing provides picket fences made out of steel and aluminum. Such fences are more durable and remain good-looking without much maintenance. As a result, QS Picket fences come with a warranty that protects the customer against damage.
Customer Service
"Quality is a habit," goes the Mantra at QS Fencing. It is evident from its customer care and 24/7 repair service that the company pays special attention to customer satisfaction.
"QS Fencing will work with you to determine the type of picket fence you need or repair your existing fence. We will help you implement the best picket fence solution to ensure that you pick the right product to suit your property and budget," says a representative of QS Fencing. "Perhaps you are looking to install a new gate, such as an entrance gate to add curb appeal and security to the front of your home, or a garden gate to keep wildlife out of your yard. We are sure to have the right gate to satisfy your style and purpose."
For more information on QS Fencing, log on to http://www.qsfencing.ca. In order to book an appointment or call for repair or installation, visit the webpage http://www.qsfencing.ca.