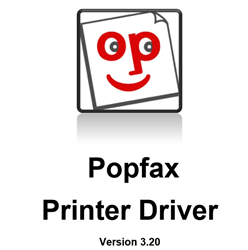 New York (PRWEB) May 06, 2014
Popfax printer-driver is an intuitive application that contains a printer drive component and is thus capable of sending documents from a computer or a mobile device to any fax number, via the Internet.
The program can be downloaded from download.popfax.com
When the user needs to send fax, all he has to do is open a document and select the Popfax Printer from the printing devices.
Once connected to the dedicated server, the software automatically converts the file to a TIFF FAX G3 format and sends it to the specified fax number.
It is possible to enable simultaneous transfer to multiple fax destinations. The program also supports several input file formats, including DOC, ODT, SXW, PDF, BMP, GIF, RTF and TXT.
The Popfax printer converts any document the desktop can print into the black and white TIFF FAX G3 format and then sends it to any fax machine via Popfax.com Internet Fax Services. Instead of printing to paper, the printout will be sent as a fax.