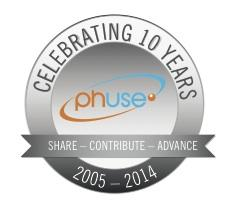 Pierre Mayeur (IDDI): 'After last's years sold out event, this year's PhUSE annual conference is definitely on the path to success!'
London (PRWEB) May 12, 2014
The end of April is a very important milestone for the PhUSE community as it is when the call for papers for the PhUSE annual closes. As in the previous year the system needed to be closed in time to manage another record in submitted abstracts. In total more than 185 abstracts for posters and presentations were submitted for the conference. This confirms that there a great interest in the premier conference for data professionals in the pharmaceutical industry.
Pierre Mayeur, from IDDI, and Chair of the PhUSE annual conference and his committee will be extremely busy in the upcoming weeks. They have to review all submitted abstracts and accept the highest quality abstracts for the available presentation slots of the conference. Pierre Mayeur is thrilled about this fantastic success. Being asked about his thoughts, Mayeur replied, "The first major milestone has been met, with more than 185 abstracts delivered on time. After last's years sold out event, this year's PhUSE annual conference is definitely on the path to success!"
This year PhUSE will celebrate its 10th anniversary at the annual conference that will be held in London in the Grange Tower Bridge Hotel. With the theme "Data Transparency" PhUSE has chosen another hot topic in the biometric and clinical trials industry. With data transparency initiatives starting to emerge from regulatory agencies, as well as some large companies, the pharmaceutical industry is at another crossroad. The PhUSE conference committee is currently preparing the final conference agenda that will include an entire day dedicated to this important topic. As in previous years, posters and presentations will be the backbone at the conference from October 12th to 15th. With a new record number of submitted abstracts Pierre Mayeur and his team will be able to deliver another high quality event for PhUSE and celebrate the 10th anniversary in style.
Registration for the conference is open with an option to get a discount on the ticket price for attendants who register prior to June 27th.
PhUSE, Share – Contribute – Advance, provides the industry with the premier platform for creating and sharing ideas, tools and standards around data, statistical and reporting technologies; PhUSE is a non-profit, volunteer-supported, community of professionals who are passionate about advancement of clinical information. Since its inception, PhUSE has expanded from its roots as a conference for European Statistical Programmers, to a global platform for the discussion of topics encompassing the work of Data Managers, Biostatisticians, Clinical Data Scientists and eClinical IT professionals.