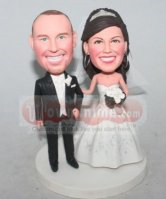 WowMiniMe -Your Trusted Custom Cake Toppers Designer!
(PRWEB) May 05, 2014
Recently, Wowminime.com, a professional company of funny figurines, has released its new collection of custom cake toppers. According to the company's sales manager, all these high quality toppers are created according to the newest trends in the global market. More importantly, they are now available at low prices, up to 30% off.
Special cake toppers are in huge demand in the current market; this is why Wowminime.com's top designers are striving to make more nice custom cake toppers. The company has a rich experience in the topper industry, and all its items are made from fine materials. It is making every effort to help customers who want to make their weddings and party more interesting and memorable.
"We are very happy to announce our new range of custom cake toppers. They are available in many styles. To meet the diverse needs, we are also providing fully customized items on our website. Those who want to purchase cheap and wonderful custom figurines can visit our online store now. By the way, gay wedding cake toppers are also available, " the sales manager says.
Furthermore, all the company's great custom cake toppers are promised to be handcrafted. They are offered at the lowest possible prices, which can really hundreds of dollars for worldwide clients.
About Wowminime.com
Wowminime.com is one of the most outstanding cake topper manufacturers. The company is offering almost all kinds of high quality toppers for worldwide customers. What's more, all its items are available at affordable rates. The company's popular items include superman custom cake toppers, Harley Davidson cake toppers, bridesmaid personalized figurines and so on.
More information about the company and its funny products can be found at: http://www.wowminime.com/.