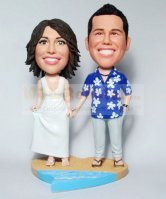 WowBobble - Your Trusted custom bobblehead/wedding bobblehead designer!
(PRWEB) May 06, 2014
Recently, WowBobble.com, a popular supplier of funny bobbleheads, has released a new selection of custom bobbleheads. Aside from that, all these brand new items are offered at discounted prices, from 10 to 30 percent off. According to the company's chief executive officer, the special offer is launched to bring huge benefits for WowBobble.com's fans and supporters.
The CEO was very happy when he talked about the new bobblehead collection. "We feel very proud to announce the special offer on our newly released custom bobbleheads. All the discounted products are well designed by experienced workers of our company. Those who are in need of wonderful bobbleheads should take full advantage of this promotion, because all our new items are available at the lowest possible prices now. Please note that the special offer will be valid until May 26, 2014."
True enough, WowBobble.com has been working in the bobblehead industry for many years. The company wants to offer all kinds of affordable, high quality bobbleheads for worldwide clients. Customers can always save hundreds of dollars when shopping on its website.
What's more, the company also provides extra discounts (up to 50% off) for those who place a big order. Its items are promised to be quality made, and all of them are ideal items for mascot production.
About WowBobble.com
WowBobble.com is a professional manufacturer and retailer of interesting bobbleheads. The company is provided worldwide customers with a huge selection of funny items, including wedding bobblehead cake toppers, wedding bobblehead cake toppers, bridesmaid bobbleheads, fully customized bobbleheads and so on. The company wants to offer all kinds of great bobbleheads for new and old clients.
For more details about its new items, customers can visit: http://www.wowbobble.com/.