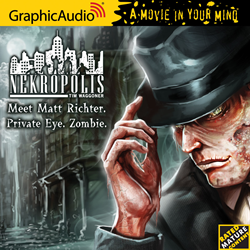 You get the experience of a dramatized work as in watching a movie, but there's still room for your imagination to create images, as in reading a book."
Bethesda, Maryland (PRWEB) May 07, 2014
GraphicAudio® A Movie in Your Mind® is pleased to announce the release of NEKROPOLIS ARCHIVES 1: MEET MATT RICHTER, ZOMBIE DETECTIVE by Tim Waggoner in their full-cast, dramatized version with sound effects and music for an intense and thrilling listening experience.
GraphicAudio® has a history with this genre – publishing their first Horror title, SNAKES ON A PLANE back in 2006 and recently releasing CLOCKWORK CENTURY 1: BONESHAKER by Cherie Priest.
Author Tim Waggoner has written and published novels for both adult and young readers, including TEMPLE OF THE DRAGONSLAYER and RETURN OF THE SORCERESS (Wizards of the Coast), DARK AGES: GANGREL and EXALTED: A SHADOW OVER HEAVEN'S EYE (White Wolf), NECROPOLIS (Five Star), and DEFENDER: HYPERSWARM (I-Books). He has also written the Ghost Trackers series in collaboration with Jason Hawes and Grant Wilson of Ghost Hunters television show fame. In addition, he has recently written tie-in novels for televisions shows such as Supernatural and Grimm.
The audio introduces us to Matt Richter, an Earth cop who came through a portal to Nekropolis on a case, died, and was resurrected as a zombie. Unable to return home, he works as a private investigator on the very mean streets of this shadowy, dark city.
In his first case, Richter must help a delectable half-vampire named Devona recover a legendary artifact known as the Dawnstone, before it's used to destroy Nekropolis itself. That is, if he can survive the variety of horrors that infest the city.
Waggoner says about hearing his work done by GraphicAudio®, " It's quite a treat! I've loved GraphicAudio's productions for years, especially the Mack Bolan and Deathlands® series, and it's wonderful to hear my characters and world brought to life in full-cast audio with sound effects. The company slogan -- A Movie in Your Mind -- describes the experience perfectly. It's the best of both worlds, really. You get the experience of a dramatized work as in watching a movie, but there's still room for your imagination to create images, as in reading a book."
Download and listen to a free Behind the Mic Podcast Interview between Director Ken Jackson, Sound Designer Justin Wortz and Author Tim Waggoner discussing production and some background on the NEKROPOLIS ARCHIVES series.
About the Author: Tim Waggoner currently serves as a professor of English and coordinator of creative activities at Sinclair Community College in Dayton, Ohio. Waggoner also teaches creative writing at Seton Hill University, Pennsylvania, in an innovative low-residency Master of Fine Arts degree program in Writing Popular Fiction.
About GraphicAudio®: An imprint of The Cutting Corporation, since 2004, GraphicAudio® has published approximately 900 titles and 60 different series in their GraphicAudio® A Movie in Your Mind® audiobook entertainment format. For more visit: http://www.graphicaudio.net