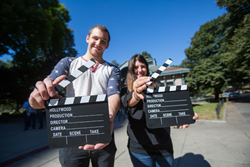 With new movies being shot everyday travelers taking an On Location Tour get to see filming in action and walk in the steps of their favorite actors, notes Georgette Blau, President of On Location Tours
Boston, MA (PRWEB) May 13, 2014
For movie loving tourists looking for a distinctive way to mark travel, taking advantage of Boston's new 'Hollywood East' status could be their ticket to the inside scoop on celebrities in the Hub and an unforgettable view into how TV and movies are made. On Location Tours, celebrating 15 years in business, offers guests a three hour TV and movie bus tour or a one and a half hour Movie Mile walking tour. Either tour is a one-of-a-kind show they will never forget.
Boston is the location where many of today's TV and movie favorites have been filmed including American Hustle, The Heat, TED, Cheers, Boston Legal, The Departed, The Town and the newly released Sex Tape. The Boston tours offer guests the chance to experience the Lights, Camera, Action! of where these TV shows and films where shot, learn insider trivia about movie making, read from famous scenes and experience the thrill of being 'On Location'!
"With new movies being shot everyday - Tumbledown, Odyssey, Business or Pleasure and The Forger to name just a few - travelers taking an On Location Tour get to see filming in action and walk in the steps of their favorite actors while getting a behind the scenes tour of Boston and its rich cinematic history," notes Georgette Blau, President of On Location Tours.
Tours are led by local actors who share inside industry information. The Boston TV & Movie Sites tour runs year round and the Boston Movie Mile runs April - October. For more information and year round schedules, please visit http://onlocationtours.com/boston-tours/ or call 888-210-8012.