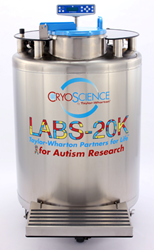 As part of our campaign, Taylor-Wharton has produced a specialty-manufactured version of the popular LABS20K cryogenic freezer, incorporating the autism ribbon into the logo.
Minnetonka, MN (PRWEB) May 05, 2014
Taylor-Wharton is pleased to announce the 2014 Taylor-Wharton Partners For Life Achievement Program. This initiative was launched in 2012 to honor excellence in biorepository research programs involved in different medical research fields.
For 2014, Taylor-Wharton has selected the topic "autism research." As described by the International Center for Autism Research and Education, "Autism is the most common condition in a group of developmental disorders known as the autism spectrum disorders (ASDs)." The Centers for Disease Control and Prevention (CDC) now estimates that 1 in 68 children (or 14.7 per 1,000 eight-year-olds) in multiple communities in the United States has been identified with autism spectrum disorder (ASD), a 30% increase from the 2012 estimate. Males are likely to be affected as much as four times more often than females. (http://www.cdc.gov/media/releases/2014/p0327-autism-spectrum-disorder.html ) The Partners for Life Program aims to play a role in promoting research to develop improved treatment or possibly even a cure for this family of conditions.
Autism research biorepositories represent an excellent biorepository research topic, and many of the brain specimens are donated from deceased persons of all ages. Brain tissue collections had an especially challenging year in 2012. In July, a freezer failure at the Harvard Brain Tissue Resource Center at McLean Hospital in Belmont, MA damaged one-third of the world's largest donated brain collection for autism research. In October, Hurricane Sandy wiped out power to New York University's Langone Medical Center, leading to the loss of precious biological samples and laboratory animals in the neuroscience and cancer research areas.
Luke Bradshaw, CryoScience Global Marketing and Sales Manager for the Americas, stated, "As part of our campaign, Taylor-Wharton has produced a specialty-manufactured version of the popular LABS20K cryogenic freezer, incorporating the autism ribbon into the logo. This freezer, with specialty-designed color accents, will be used for trade shows and other industry events across North America throughout the year."
Researchers worldwide will be asked to submit a narrative on their work to find a cure for autism and to explain how having this freezer could benefit the search for a cure. After the submission deadline of September 1, an external expert panel of four reviewers will evaluate the submissions and select the best proposal. The winner will be announced at the European, Middle Eastern & African Society for Biopreservation & Biobanking Society (ESBB) in Leipzig, Germany, Oct. 22-24, 2014. Taylor-Wharton will present the LABS20K freezer, valued at more than $22,000, in early 2015.
The four reviewers consist of experts in the biorepository and related research fields:
Jim B. Vaught, PhD – Senior research fellow at the Internal Prevention Research Institute, recently retired as Chief of NCI's Biorepositories & Biospecimen Research Branch, co-founder & 2nd president (2000-2001) and now president-elect of the International Society for Biological & Environmental Repositories (2015), and editor of ISBER's official journal, Biopreservation & Biospecimen Research.
Judith Giri, PhD – CDC CASPIR biorepository operations lead, former biorepository director of the Biorepository Alliance of GA-Oncology (BRAG-Onc) (2004-2013) through the Georgia Health Sciences University.
Barbara Glazer, BS, MT(ASCP) – Consultant at Projects in Biobanking, retired from Quintiles Laboratories as director of Preanalytical Services (2006-2014) and previously as Associate Director of Global Project Services.
Elaine Gunter, BS, MT(ASCP) – Specimen Solutions global biorepository & laboratory consultant. Retired from CDC in 2006 as chief of the NHANES Laboratory chief, and deputy director of the Division of Laboratory Sciences. Co-founder and 1st president of ISBER (1999-2000), served as ISBER's newsletter editor for 7 years, and continues to participate in a number of committees and working groups for the society.
Application information and the proposal submission link may be found at: http://partnersforlife.taylorwharton.com.
About Taylor-Wharton Cryogenics
Based in Minnetonka, MN, Taylor-Wharton Cryogenics LLC manufactures state-of-the-art CryoScience by Taylor-Whartontm equipment ranging from 1.5 liters to the largest LABS freezer that holds up to 94,200 vials. A complete line of CryoScience laboratory inventory control systems and accessories are available. With worldwide operations and manufacturing facilities, Taylor-Wharton also produces a complete line of liquid cylinders, Microbulk and bulk tank storage systems up to 110,000 gallons. For more information on the complete line of Taylor-Wharton products, call U.S. customer service at 1-800-898-2657 or visit http://www.taylorwharton.com.