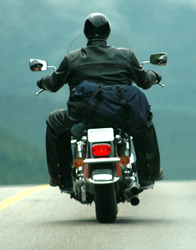 Lincoln, RI (PRWEB) May 05, 2014
May is Motorcycle Safety Awareness Month, so Amica Insurance is sharing six tips to help prevent accidents.
According to the Centers for Disease Control and Prevention, motorcycle-related deaths have increased by 55 percent since 2000. In an effort to promote motorcycle safety, the National Highway Traffic Safety Administration is offering the following tips:

Wear a helmet that has been certified by the U.S. Department of Transportation, as well as brightly colored clothing with reflective material.
Pay extra attention at intersections, as approximately half of all motorcycle-vehicle crashes take place there. Look for vehicles that might unexpectedly turn or pull out into the street.
Be sure to check the rearview mirrors when stopping or changing lanes. Stopping quickly without checking mirrors can result in rear-end crashes.
Examine the road surface and look for potential problems. These hazards include potholes, oil slicks, puddles or other debris.
Ride in parts of the lane where you can be seen. Make sure your headlights are on, day and night.
Maintain a safe speed based on driving conditions and ability level, and try to avoid sudden turning or braking.
About Amica Insurance
Amica Mutual Insurance Co., the nation's oldest mutual insurer of automobiles, was founded in 1907. The company, based in Lincoln, R.I., is a national writer of automobile, homeowners, marine and personal umbrella liability insurance. Life coverage is available through Amica Life Insurance Company, a wholly owned subsidiary. Amica employs more than 3,200 people in 40 offices across the country.
CONTACT: Vince Burks, Corporate Communications, 50 Amica Way, Lincoln, RI 02865-1155, 800-652-6422, ext. 24563
Twitter: Amica
Facebook: Amica Mutual Insurance Co.