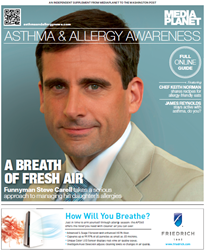 New York, NY (PRWEB) May 05, 2014
The print component of "Asthma & Allergy Awareness" is distributed within today's edition of The Washington Post, in the D.C. metro area, in observation of National Asthma & Allergy Awareness Month, with a circulation of approximately 450,684 copies and an estimates readership of 1.3 million. Its original digital site is distributed nationally through a vast social media strategy and across a network of top news sites and partner publisher outlets reaching an additional three million potential readers. To explore the digital campaign, visit asthmaandallergynews.com.
The publication has united the leading organizations and advocates in the asthma and allergy industry to motivate millions of readers on what the industry can offer to better manage their loved ones and their own asthma and allergy symptoms. Far too many asthma and allergy patients continue without proper education – this campaign will present them with the brands to turn to in order to breathe easy! Alongside thought leaders such as Steve Carell, James Reynolds, Chef Keith Norman, American College of Asthma, Allergy and Immunology (ACAAI), AAAAI, The Food Allergy Bloggers, FARE, Snack Safely.com, DC Asthma Coalition and NADCA along with a variety of inspiring industry leaders such as Friedrich Air Conditioning, Blue Air North America, Allergy & Asthma Network Mothers of Asthmatics, ALK-Abello, Nestle Nutrition Institute, and more.
About Mediaplanet
Mediaplanet is the leading independent publisher of content-marketing campaigns covering a variety of topics and industries. We turn consumer interest into action by providing readers with motivational editorial, pairing it with relevant advertisers, and distributing it within top newspapers and online platforms around the world.
Press Contact:
Amy Jacob
646-922-1417
amy.jacob(at)mediaplanet(dot)com