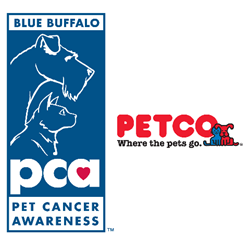 "Donations can also be made by rounding up any purchase at Petco, making a donation in any amount at the register, or by donating online at petcancerawareness.org."
Wilton, CT (May 2014) (PRWEB) May 07, 2014
Blue Buffalo® and Petco™ are teaming up this May for their 5th Annual Pet Cancer Awareness Month in hopes of raising money to benefit pet cancer research and the families affected by this disease.
Cancer will affect one out of every four dogs in the U.S., and of those, more than half will die from the disease. In fact, cancer is the number one disease-related cause of death in both dogs and cats, according to Morris Animal Foundation, a world leader in advancing veterinary research. About eighty percent of pet parents know little to nothing about pet cancer symptoms.
During Pet Cancer Awareness Month, May 3 through June 1, 2014, pet lovers can help Blue Buffalo and Petco aim for a cure. During that time, for each bag of Blue Buffalo dog or cat food purchased at Petco stores across the country, one dollar will be donated to organizations such as the Morris Animal Foundation and others that support pet cancer research. Money raised will fund efforts like the Morris Animal Foundation's 5-5-5 Initiative, which will conduct five annual clinical trials on osteosarcoma, the most common form of bone cancer in dogs, and a form of cancer that also affects human children. Funds will also be distributed to universities and clinics across the country that are conducting research on the causes, prevention and treatment of canine and feline cancer, as well as to various organizations that are dedicated to helping families in need cover the cost of cancer treatments.
Donations can also be made by rounding up any purchase at Petco, making a donation in any amount at the register, or by donating online at petcancerawareness.org.
Last year, Blue Buffalo and Petco were able to raise over $1.5 million and have their sights set on raising another $2 million this year. To date, the partnership between Blue Buffalo and Petco's efforts have raised and donated over $4.7 million to these causes.
For more information, visit petcancerawarness.org. To find a Petco store near you, visit petco.com.
###
About The Blue Buffalo Foundation for Cancer Research
The Blue Buffalo Foundation For Cancer Research was established in 2003 by The Blue Buffalo Company, Ltd., a manufacturer of healthy and holistic dog and cat foods under the BLUE™ brand names. Finding a cure for pet cancer is one of the top priorities for The Blue Buffalo Company because its founders have had very personal experience with this disease. "Our dog Blue, a large breed Airedale and a great pal, had three bouts with cancer," said Bill Bishop, Blue Buffalo's founder. "After Blue's battles, we wanted to do something meaningful to help find a cure for this devastating disease. So one of the first things we did after starting our pet food company was to establish the Foundation to raise money for pet cancer research, and raise awareness among pet parents of the early warning signs of this disease."
About Blue Buffalo
Blue Buffalo Company, located in Wilton, CT, is the nation's leading natural pet food company, and provides a complete line of healthy and holistic natural foods and treats for dogs and cats. Blue Buffalo products are sold nationwide in Petco. For more information visit BlueBuffalo.com.
About Petco and the Petco Foundation
Petco is a leading pet specialty retailer that focuses on nurturing the powerful relationship between people and pets. We do this by providing the products, services, advice and experiences that keep pets physically fit, mentally alert, socially engaged and emotionally happy. Everything we do is guided by our vision for Healthier Pets. Happier People. Better World. We operate more than 1,300 Petco locations across the U.S., Mexico and Puerto Rico, including more than 100 Unleashed by Petco locations, a smaller format neighborhood shop; nine Pooch Hotel destinations for pet daycare, boarding and spa services; and Petco.com. The Petco Foundation, an independent nonprofit organization, has raised more than $125 million since it was created in 1999 to help promote and improve the welfare of companion animals. In conjunction with the Foundation, we work with and support thousands of local animal welfare groups across the country and, through in-store adoption events, help find homes for more than 400,000 animals every year. Petco.com/foundation