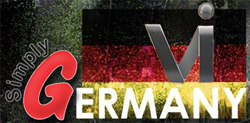 " Reynolds' said his German team was focused on developing a solid and deep relationship.
Los Angeles, CA (PRWEB) May 08, 2014
Neil Haley, The Total Tutor host of the Simply G Radio Show, interviewed GJ Reynolds to find out about his tour in Germany.
Reynolds is a ViSalus, a 5 Star Ambassador, a VI Millionaire, and the CEO of Simply G Media. He is the author of The Playful and Powerful Warrior Within You, has completed at least 2 miles per day for over 900 days straight, and has won the Dale Brown Challenge.
On the show, Reynolds discussed his trip to Germany and how well British Airways treated him on his flights.
"Everything that was documented as Sir or Lord," Reynolds said, admitting that he found this amusing. "I flew from London to Stuttgart to do a Challenge Party in that city. When I spoke at the Challenge Party I had a translator named Jürgen Pulvermüller. He is a National Director and Jürgen is brand new to the business."
Reynolds' team in Germany impressed him, he said. "They asked a lot questions, who I was as a person and my goals. They wanted to know me." Reynolds' said his German team was focused on developing a solid and deep relationship.
According to Reynolds, one of the best parts of the trip was to see that people in Germany are looking to lose weight and be healthier. There is an obesity epidemic worldwide and Reynolds sees the Challenge as the solution.
In the interview, Reynolds also discussed how members of his team showed him Germany, how he took a tour of a castle, how he drove on the Autobahn—where his car fell victim to a flat tire—and more.
Reynolds said that he hopes to learn German, so when he returns to Germany he is able to communicate to his German Team much better.
You can find out more information on Simply G Media by going to http://simplyg.com/media/simplyg-radio/.