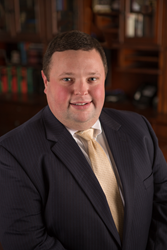 Fidelis Law is excited about Tommy joining the firm because of his experience in the practice of family law
Brentwood, Tennessee (PRWEB) May 06, 2014
Fidelis Law PLLC is pleased to announce that Thomas ("Tommy") K. White has joined Fidelis Law. Thomas White's practice will primarily focus in the area of family law.
Fidelis Law is excited to be adding family law to its growing practice areas. Fidelis Law remains committed to the foundation of its firm, the sanctity of marriage and the importance of the family, but it has learned through the years that circumstances arise that require legal assistance (including matters involving child custody and child support, termination of parental rights, and sometimes, divorce). Fidelis Law is excited about Tommy joining the firm because of his experience in the practice of family law, and because he shares Fidelis Law's philosophy of practice and core values.
Tommy has been practicing law in Tennessee since 2009. Prior to joining Fidelis Law, he practiced law as an associate with Batson Nolan PLC in Clarksville, TN. He is a member of the Tennessee Bar Association, Nashville Bar Association, and the Williamson County Bar Association. In addition to family law, Tommy also practices in the areas of criminal law, civil litigation, estate planning, and personal injury.
Tommy earned his Juris Doctorate from the Cumberland School of Law at Samford University, and his undergraduate degree from the University of Tennessee.
Fidelis Law is located at 216 Centerview Drive, Suite 317, Brentwood Tennessee and can be reached at 615-370-3010. For more information about Fidelis Law, please visit the firm's website, http://www.fidelislawfirm.com.