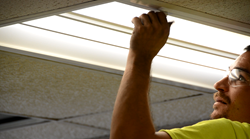 The LDR suite demonstrates Orion's commitment to assist facilities in achieving their own energy independence and environmental goals. - John Scribante, Orion CEO
Manitowoc, WI (PRWEB) May 06, 2014
Orion Energy Systems has been selected as a finalist in the Innovative category for the 2014 Star of Energy Efficiency Awards for its breakthrough energy efficient LED troffer retrofit technology (LDR) that is completely assembled within the frame and reuses the original existing troffer housing.
Time and again, Orion has proven to develop an award-winning fixture design that delivers the most amount of light output for the least amount of energy input.
The Alliance to Save Energy Star of Energy Efficiency Awards are bestowed upon companies that have demonstrated a significant and tangible commitment to the cause of energy efficiency. In particular, the Innovative Star of Energy Efficiency Award recognizes an emerging technology that has the potential to transform the energy efficiency market.
Winners will be announced on September 23 in Washington, D.C.
Considering that there are an estimated 964 million troffers currently in the United States lighting market, the potential economic and environmental impact of the LDR is remarkable.
"The LDR suite demonstrates Orion's commitment to assist facilities in achieving their own energy independence and environmental goals," said Orion Energy Systems CEO John Scribante.
The Orion LDR product suite, proudly manufactured in Manitowoc, Wisconsin USA, is designed to retrofit most existing 2'x 2' and 2'x 4' fluorescent troffers and is available in a variety of lens styles, wattages and color temperatures.