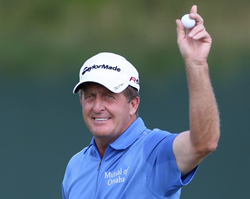 Fred Funk enjoys a strong outing at the Insperity Invitational aided by NOXICARE ™ natural pain reliever.
Chevy Chase, Maryland (PRWEB) May 05, 2014
Fred Funk--sponsored by NOXICARE™, a Truceuticals, LLC ® natural pain reliever--shot a four under par three round total of 212 on Sunday to tie for ninth place in the Insperity Invitational Tournament. The three-day event on the PGA Champions Tour for top senior golfers was played at the Woodlands Country Club in Woodlands, Texas.
Funk was five under par for the first two rounds but ended up shooting a one over 73 on Sunday. Bernard Langer wound up on top of the leader board at 11 under par, staving off a hard charging Fred Couples. Couples pulled to within one stroke after four consecutive birdies on the back nine of the final round, but couldn't quite close the door.
That left Langer a three-time champion at Insperity with the winner's share of $300,000. Other top finishers include Colin Montgomerie, Esteban Toledo and Jay Haas. Tom Kite and Fuzzy Zoeller finished back in the back.
"This was really a competitive field and I'm happy that I was able to stay in the hunt," said Funk.
After eight career PGA tournament wins, Funk hopes to stay on the Champions Tour for golfers age 50 and older for at least another decade—that despite bouts of pain in his wrists and shoulders. When that happens, Funk tees up NOXICARE to keep his strokes on the money. It's a natural pain fighter containing seven, anti-inflammatory ingredients.
"Over the years, I've used a number of treatments to reduce the hurt that inevitably comes with punishing exertion. Since I started using NOXICARE, I don't need prescription painkillers that can be dangerous and addicting," says Funk, who at age 57, has been playing competitively for 30 years.
"We salute Fred for his continuing achievement in one of the world's most demanding sports, and we're very proud that NOXICARE helps him play without pain," says Reza Ghorbani, MD, ABIPP, FIPP.
Doctor Ghorbani created NOXICARE and is the president and medical director of the Advanced Pain Medicine Institute of Greater Washington, DC. He is also founder and CEO of Truceuticals LLC®, which markets NOXICARE. In addition, he is the author of "Secrets to a Pain Free Life."