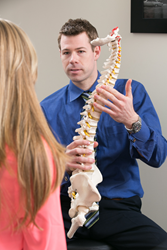 With proper exercise and diet, your risk of osteoporosis can be reduced and even prevented.
San Francisco, CA (PRWEB) May 05, 2014
For the month of May, SF Custom Chiropractic is shining a spotlight on Osteoporosis Awareness and Prevention. Osteoporosis is a condition which causes bones to weaken and also decreases bone growth and tissue regeneration. People who suffer from osteoporosis are much more likely to develop a bone injury and have difficulty making a complete recovery.The most common locations of broken bones in people with osteoporosis are the hip, wrist, and spine. Most cases of osteoporosis are found in women over 40.
The human skeleton consists of 206 bones. The bones of the skeleton comprise the hard tissues that support the rest of the body and enable it to move. Promoting bone health is at the top of the list for the treating doctors at SF Custom Chiropractic. Some think of bones as cold, dead tissue, but bone is living, growing tissue. In order to facilitate healthy growth of skeletal tissue, it is important to be active and engage in a healthy amount of physical activity every day. Peak bone mass is typically reached between the ages of 18 and 25. After peak bone mass is reached, the balance between bone formation and bone loss begins to shift. It is during this time that it becomes crucial to sustain a healthy diet and level of physical activity to stimulate bone growth over bone loss. When osteoporosis becomes a concern, it is important to prioritize one's healthy bone growth as much as possible.
"With proper exercise and diet, your risk of osteoporosis can be reduced and even prevented," says Dr. Jacobs, head treating physician at SF Custom Chiropractic. "It is important to make your bone health a priority and to talk to a medical professional if you have any concerns."
The treating doctors at SF Custom Chiropractic advocate for healthy decision making to ensure a high standard for quality of life. When someone is pain free, they are able to engage in the activities that they enjoy without having to consider limitations such as back, neck, or hip pain. Maintaining a balance of functional movement and a nutritious diet are key factors in improving and keeping a positive quality of life. It is important to keep bone health in mind when making exercise and dietary choices because bones are directly connected to one's ability to engage in balanced, functional movement.
Dr. Gustin says, "Organ meats, bone broth, and green leafy vegetables are good natural dietary sources of calcium and collagen, the two main components of bones."
Dr. Bailey is also concerned about bone health. He says, "Bones absorb the impact of heavier movements, so it is important to optimize their growth and regenerating capabilities. It is also important to focus on muscles, nerves, and other tissues that facilitate movement of the body. Chiropractic care helps the patient to optimize their ability to engage in physical activity by focusing on the health of the nervous system to promote functional, pain free movement."
In terms of bone health, knowledge is power. If someone is at risk of sustaining a bone injury, it is important to know risk factors, prevention strategies, and strengthening techniques. On May 20th, SF Custom Chiropractic is partnering with My Heart Watch to hold bone density screenings at the Financial District location. My Heart Watch's mobile health clinic will be available from 12:00 pm to 3:00 pm on May 20th performing bone density analyses at a reduced cost of $34.00 per patient and will include a print out of the bone density report. The screenings will consist of an ultrasound of the bare heel, which is the best peripheral predictor of a future fracture.
Osteoporosis is a very serious condition, but it can be stopped when bone health is a priority. To schedule an appointment with one of the SF Custom Chiropractic treating doctors or inquire about the bone density screenings, call (415) 788-8700.