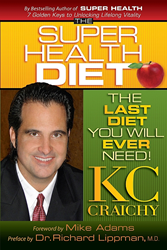 "Diabetes, including the related blood-sugar and insulin issues, is the greatest health issue facing humanity today." KC Craichy, Living Fuel Founder & CEO
Orlando, FL (PRWEB) May 05, 2014
According to the American Diabetes Association, 25.8 million Americans have diabetes, and 79 million more have pre-diabetes, a condition that sets the stage for a diagnosis. And the CDC predicts that the rate of diabetes will triple (yes, triple) by 2050. This scourge is a major cause of heart disease, the #1 killer in America. Perhaps most alarming is that diabetes (particularly Type 2 diabetes) is, in truth, a disease of choice and completely reversible with diet and lifestyle changes.
Simply put, diabetes is a defect in the body's ability to convert glucose (sugar) into energy. KC Craichy, author of The Super Health Diet: The Last Diet You Will Ever Need!, believes that "diabetes, including the related blood-sugar and insulin issues, is the greatest health issue facing humanity today."
Craichy will be speaking about Re-Thinking Type 2 Diabetes, a subject he detailed in The Super Health Diet. "It was my privilege to speak at the Reversing Diabetes World Summit because the information being presented is high-impact that can change countless lives," Craichy said. "The Summit is not just for diabetics but for anyone who wants to know how to live to avoid this deadly diagnosis. I strongly encourage everyone to listen and learn this invaluable information!"
The Reversing Diabetes World Summit is available by registering at thediabetessummit.com. The Summit begins today and continues through May 16th. KC Craichy is a featured speaker tomorrow, May 6th.
KC Craichy is a health advocate, researcher, and recognized expert on natural health and performance nutrition. His extensive study of leading-edge health research and collaborative work with top medical and nutritional practitioners and researchers to solve his wife Monica's health problems—anxiety, depression, and suicidal thoughts—led him to the answers for Monica's healing and to the founding of Living Fuel, Inc. As a result of overcoming this health crisis, KC and Monica have helped numerous people become overcomers in their own health situations. Together they are now cohosts of the popular Internet TV program LivingFuelTV.
KC is committed to changing lives through multimedia, super health lifestyle education combined with super healthy, high impact superfoods. He is a Performance Nutrition Specialist and serves on the Nutrition Advisory Board for Titleist Performance Institute. KC also served on the Clinical Nutrition Review Board (the certifying body of the International and American Association of Clinical Nutrition) for seven years. A frequent natural health and performance nutrition guest on various TV and radio programs as well as a frequent contributor to national magazines and blogs, KC lives in Orlando, Florida, with his wife, Monica, and their five children.