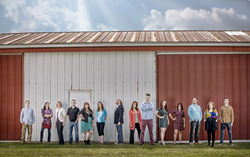 Gettysburg, PA (PRWEB) May 06, 2014
Celebrate Gettysburg magazine has received a 2014 Hermes Creative Awards for innovative and creative cover design. The winning cover, published in November/December 2013, features a portrait from our feature story "The Faces of Battle," a pictorial of the reenactors who attended Gettysburg's 150th Anniversary Reenactment.
"Our creative team and our clients bring so much energy to the table. That really is the basis of creating work that gets results—which happens to win awards, too," said Troy Dean, Celebrate Gettysburg owner and art director. He noted that with 5,500 entries from 15 countries, the Hermes Creative Awards is a truly international program in which winners are acknowledged as the "who's who" of the creative industry.
Celebrate Gettysburg's parent company, Graphcom, won six additional Hermes Creative Awards as well.
"Growing our creative services division has been a huge emphasis for our company the past four years. We've pulled together an amazing team—they think outside the box, they work crazy hours, and they get results for our clients. It's great to see them get the recognition they deserve," said Graphcom President Matt Livelsberger.
The Hermes Creative Awards, administered and judged by the Association of Marketing and Communication Professionals, is an international competition for creative professionals who conceptualize, write, and design marketing materials. Winning entrants range in size from individual communicators to media conglomerates and Fortune 500 companies.
About Graphcom
Founded in 1982, Graphcom is a full-service communications and marketing firm located in Gettysburg, Pa. The organization includes a creative agency (Graphcom Creative), a signage division (Signs by Graphcom), a publishing division (Graphcom Publishing), a digital flags and scenic effects division (Field and Floor FX), as well as a full-service commercial printing division with G7 Master Printer certification. Learn more about Graphcom's services by visiting http://www.graphcom.com.