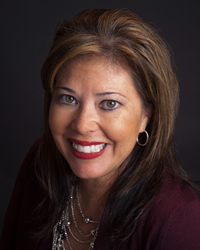 It's an honor to have participated in this program to give me the tools to maximize my personal leadership power.
Memphis TN (PRWEB) May 06, 2014
Data Facts Inc, a nationwide provider of mortgage lending and background screening solutions, congratulates Julie Wink, Executive Vice President of Data Facts, Inc on completing the Leadership Development Intensive (LDI) Program for experienced executives with the New Memphis Institute.
Wink, committed to continuing education and strengthening her leadership skills participated in a highly interactive 3 ½-day experience designed for experienced executives to further develop leadership capacities. Building on personal strengths, participants gain new insight into leadership tactics. This intensive program is focused on excelling in new ways; reflecting on leadership styles, dissecting effectiveness and examining your future processes.
"Being the best leader possible requires me to excel in new ways I never have before. This highly personalized opportunity taught me to tap into my inner strength so I can deliver more aligned results to better lead my organization to success," says Julie Wink, EVP.
The LDI combines proven-in-action techniques with peer interaction and insights from the latest research to help leaders achieve greater collaboration, complex management techniques, and develop clear action plans.
About The New Memphis Institute
The New Memphis Institute trains leaders with a mission - to develop their personal potential so Memphis reaches its full potential. All that is done contributes to a mission with a purpose: leadership that ripples from New Memphis' programs and improves all facets of Memphis – neighborhoods, schools, government, economic development, and civic life. Some of the most important impacts are those made through the Community Action Projects which help local nonprofits deliver on their missions.
About The Leadership Development Intensive
The Leadership Development Intensive(LDI) program is a three-and-a-half day training experience delivered in partnership with the world-renowned Center for Creative Leadership. More than 750 executive-level business and civic leaders have completed the program, which uses innovative tools and experiential learning to empower established leaders to better understand and use their strengths.
About Data Facts, Inc.
Since 1989, Data Facts has provided information you trust and rely on to make sound lending, hiring, and other business decisions. Data Facts' core divisions include, financial lending solutions for mortgage companies and background screening for employment, volunteers and students. We have a reputation for providing premier lending solutions, which enables our customers to close more loans faster and easier than ever.
Data Facts is one of only 2% of background screening companies that have achieved the gold standard of accreditation by the NAPBS. We provide crucial information for a broad variety of business needs. Our top of the line technology delivers information quickly, accurately and securely.
Data Facts has offices located throughout the United States and serves a wide variety of customers within the United States and Internationally. Data Facts is a 100% woman owned, diversified supplier.