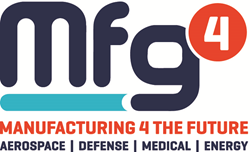 Dearborn, MI (PRWEB) May 05, 2014
Mfg4, an event produced by SME, and one of the manufacturing industry's trusted sources of knowledge and information is returning to the Connecticut Convention Center in Hartford, Connecticut, May 6-8, 2014. SME also produces the biennial EASTEC event in West Springfield, Massachusetts.
Manufacturing professionals from the aerospace, defense (including arms), medical and micromanufacturing industries will come together to gain knowledge, network, collaborate and share solutions at Mfg4. Industry leaders are provided the opportunity to explore in-depth innovative applications and new cutting-edge technologies that are improving the medical industry.
Mfg4 will offer keynote presentations focused on the challenges facing the aerospace and defense industry. Keynote speaker, Tom Herald, PhD, senior fellow, Lockheed Martin- Training & Logistics Systems, will focus on affordable mission capabilities and integrated enabling system architectures.
Also providing a keynote presentation, Mike Reopel, principal, Deloitte Consulting will examine many of the aspects of today's advanced manufacturing strategies, processes and technologies and how they will impact the manufacturers of tomorrow.
"The presentation explains how advanced manufacturing technologies, led by additive manufacturing, has become a game changer to the industry," said Reopel. "However, attendees must realize that the basics still work – value engineering, target costing and technology bookshelves."
Mfg4 attendees will also have the opportunity to see a 1945 Pratt & Whitney R-2800 Double Wasp Cutaway Engine, a one-sixth scale Corsair model, an original WWII Hamilton Standard Corsair propeller blade, and examples of advanced technologies to manufacture reproduction parts and to refurbish original components.
For more information about registering, attending or exhibiting at Mfg4, please visit mfg4event.com or call 800-733-4763.
To register please visit https://www.xpressreg.net/register/mfgf054/start.asp. For the most up-to-date details, follow us on Twitter @mfg4event.
About SME
SME connects all those who are passionate about making things that improve our world. As a nonprofit organization, SME has served practitioners, companies, educators, government and communities across the manufacturing spectrum for more than 80 years. Through its strategic areas of events, media, membership, training and development, and the SME Education Foundation, SME is uniquely dedicated to advancing manufacturing by addressing both knowledge and skill needs for industry. Follow @sme_mfg on Twitter or facebook.com/smemfg.