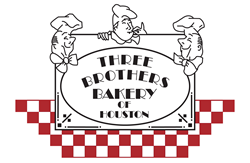 "This is a huge milestone for us, and we are pleased and honored to be able to celebrate our anniversary with the community and the City of Houston." - Robert Jucker
Houston, TX (PRWEB) May 06, 2014
May 6, 2014 – May 8, 2014 marks the 65th anniversary of local favorite Three Brothers Bakery. On its anniversary and throughout the month of May, Three Brothers Bakery will be celebrating its 65th year with the help of Sigmund Jucker, one of the original three brothers, the City of Houston, and its customers and fans near, far and across social media. Additionally, in honor of the 65th birthday, one of the bakery's traditional favorites will be getting a dramatic makeover, and celebration attendees can expect one giant-sized sweet surprise.
On May 8, the officially proclaimed City-Wide Three Brothers Bakery Day, the bakery will be hosting an anniversary celebration in honor of its 65th year, complete with birthday candles and a sweet surprise. Additionally, beginning May 8, Three Brothers Bakery will hold a series of contests, where followers will have the opportunity to win prizes on a daily basis surrounding the 65th anniversary through its social media channels.
As a business originating in Poland in the early-1800s, Three Brothers Bakery's original owners left Europe after surviving the Holocaust, and later survived devastation from Hurricane Ike and strong market competition to become a beloved Houston tradition. Sigmund Jucker, the remaining of the original three brothers, will be joining in the anniversary events and celebrating the success of the business he and his brothers worked so hard to establish when they came to Houston following World War II.
Additionally, current co-owners Bobby, Janice and Aunt Estelle Jucker will be present to celebrate and welcome special guests, including Clyde Cannon, the bakery's very first customer, the District Director for Congressman John Culberson and Council Member Larry Green, who will be presenting the bakery with its official proclamation of Three Brothers Bakery Day.
"We are privileged to have been able to thrive as a family bakery the last 65 years. It means so much to our family to continue to pass on the traditions that I learned from my father," says Bobby Jucker, bakery co-owner and 5th generation baker. "This is a huge milestone for us, and we are pleased and honored to be able to celebrate our anniversary with the community and the City of Houston."
Beginning on May 8, fans and followers can keep their eyes open for contests and promotions, running through May 31, on the bakery's Facebook, Pinterest, Instagram, Twitter accounts and in-stores.
For more information regarding Three Brothers Bakery or its 65th anniversary celebration and promotions, please contact Allison Huseman at 713-225-0880 or allison(at)integratepr(dot)com.
About Three Brothers Bakery
The traditions of Three Brothers Bakery began in Chrzanow, Poland circa 1825, and were preserved despite the family's concentration camp imprisonment during the Holocaust. Their miraculous liberation, and subsequent move to Houston, brought Eastern European scratch baking traditions to 4036 S. Braeswood Blvd., 12393 Kingsride Lane, and 4606 Washington Ave. where the owners are now proud to call themselves "memory makers who just happen to be bakers." Perfecting the process for almost 200 years, each day the fifth generation bakers produce mostly dairy-free breads and pastries, cookies, a full line of specialty dessert cakes and pies, as well as custom birthday, special occasion, wedding and groom's cakes using only the highest quality ingredients.
The Three Brothers Bakery pecan pie was named "the best mail order pecan pie America has to offer" by Country Living magazine, bakery owner, Bobby Jucker competed in the popular 'Food Network Challenge' and has been seen on Food Network's Outrageous Food. Three Brothers won "Best Mail-Order Pies 2012" from Bon Appetit, as well as Modern Baking's "2013 Retail Bakery of the Year" and was part of The Knot's "2010-2013 Best of Weddings" and "Hall of Fame" picks. Most recently, Three Brothers Bakery was named #11 in "America's 50 Best Bakeries" by The Daily Meal, and was awarded the 2013 Jeffrey Butland Family-Owned Business of the Year by the Houston division of the U.S. Small Business Administration. Three Brothers Bakery is a certified Woman-Owned Business through the Women's Business Enterprise National Council, and a State of Texas Historically Underutilized Business.
Follow Three Brothers Bakery on Facebook and Twitter for Houston area news, information and events.