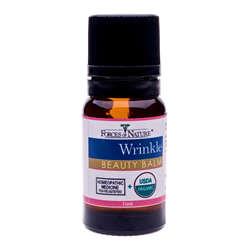 "Wrinkle creams and wrinkle treatments have never before targeted the formation of wrinkles in this way." - Dr. Peter Klapper, CEO
Sonoma, CA (PRWEB) May 07, 2014
Forces of Nature announces the release of their breakthrough wrinkle treatment, Wrinkle Beauty Balm. For the first time ever, pharmaceutical grade homeopathic medicines have been combined with 100% certified organic essential oils to remedy existing wrinkles while effectively combating new wrinkle formation. It is a process called Dual Modality. "Wrinkle creams and wrinkle treatments have never before targeted the formation of wrinkles in this way," stated the company's founder and CEO, Dr. Peter Klapper. "As a result," he continued, "not only does this treatment immediately reduce the visibility of wrinkles, it encourages healthy skin growth and rejuvenates the skin so that new wrinkle formation is inhibited."
Working with a highly skilled team of naturopaths and biologists, Dr. Klapper travels the world to source the most innovative, authentic and powerful all-natural medicines. By breaking new ground in this emerging field, he has shown himself to be a dedicated reformist of traditional medicine. "So many treatments don't work, or only work temporarily, because companies try to cut corners and save money by watering down their products with various fillers. With Wrinkle Beauty Balm, as with all our products, we only use the most potent remedies so that their power can be seen and felt with each application, creating dynamic results over time," he stated.
A proprietary blend, Wrinkle Beauty Balm contains the pharmaceutical grade, homeopathic remedy, Thuja Occidentalis, a derivative of the young Thuja tree found in North America and the eastern regions of Asia. Rich in natural vitamin C, it is a potent cure for a variety of skin disorders. This has been skillfully combined with the essential oils of Rosehip Seed, Sea Buckhorn, Lavendula, Geranium, Cypress, Sesame, Pomegranate, and Tamanu nut to create a luscious and powerful all-natural wrinkle treatment that is effective at many levels.
Many of these oils have been extracted by hand from remote regions across the globe to ensure their utmost quality and purity. Tamanu nut oil possesses outstanding therapeutic attributes. The indigenous people of Polynesia and Melanesia consider it a sacred gift of nature. Sometimes referred to as "Green Gold", it has been studied extensively, and has been proven to possess anti-inflammatory, antioxidant and anti-microbial characteristics among others.
One of the amazing attributes of all-natural compounds is that, as organic organisms, they usually serve in treating a variety of ailments and issues rather than those that are only man-made for a specific purpose. This offers additional benefits beyond those for which the product was originally intended. Dr. Mair Mckinnon, a naturopath on staff with Forces of Nature who helped to develop Wrinkle Beauty Balm stated, "We are dedicated to the well-being of others, and to supporting a chemical-free environment. Our company mission is to provide innovative, all-natural medicines that deliver significant results in order to bring profound healing to the world." The company's aim is to educate the medical community and help patients stop focusing solely on symptoms management, but work at delivering real solutions to illness that heal the body's core.
With the combination of ingredients used in Wrinkle Beauty Balm, they are well on their way in achieving their company mission, and have created a best-in-class product that is unrivaled at treating wrinkles – a true marvel of nature.
For more information on Wrinkle Beauty Balm, as well as Forces of Nature's full line of all-natural remedies, please visit: http://www.forcesofnatureusa.com.
About Forces of Nature
Forces of Nature is the only worldwide manufacturer of FDA registered, certified organic medicine. These natural treatments target difficult to treat conditions, including varicose veins, herpes, hemorrhoids and warts, using a 2-in-1 approach that merges the power of healing botanicals with proven homeopathic drugs. Forces of Nature's organic medicines are manufactured in a USDA Certified Organic and FDA registered facility. They are all backed by a one-year, money back guarantee. Forces of Nature's treatment therapies are available in pharmacies, Whole Foods and Sprouts markets nationwide, and online in the US and internationally at: http://www.forcesofnatureusa.com; http://www.forcesofnature.eu; http://www.forces-of-nature-asia.com.