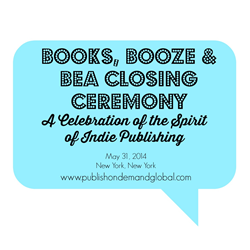 'Networking is the most important part of attending these shows, but sometimes its hard,' Ms. Neese said. 'When you are in a social atmosphere, it's much less intimidating and easier to build those relationships.'
(PRWEB) May 12, 2014
On Saturday, May 31st, BSBRA will host a "Books, Booze and BEA Closing Ceremony" Reception to commence the conclusion of Book Expo America. The reception will be held from 5-7pm and is open to anyone who would like to join.
This networking event is a great way to meet and start relationships with other authors and members of the book industry in a fun environment. Ms. Kait Neese, VP of International Operations, Ms. Shaina Wizov, Communications Director, and Mr. Robert Fletcher, CEO will host the reception.
"Networking is the most important part of attending these shows, but sometimes its hard," Ms. Neese said. "When you are in a social atmosphere, it's much less intimidating and easier to build those relationships."
The "Books, Booze and BEA Closing Ceremony" is sponsored by PODG (Publish On Demand Global Distribution,) SBPRA (Indie Publishing & Rights Sales,) and AMI (Author Marketing Ideas.)
About: Best Selling Books Rights Agency (BSRBA), our rights agency, is a leader of global agglomeration in both Digital & Text Copyrights Acquisition between the East and the West. Our rights agency focuses on matching buyers and sellers around the world for the purpose of copyright exchange. BSBRA is a subset of Publish On Demand Global, a US based publisher and rights agency. We are an amalgamation of companies and investors that wish to participate in the revolution(s) that are sweeping through the publishing industry. Through our partners and affiliates, we currently provide services to approximately 10,000 authors and publishers around the world.
Contact: Shaina(at)publishondemandglobal(dot)com