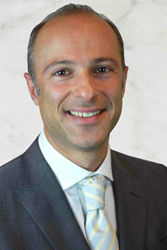 The results of the robotic-assisted prostatectomy speak for themselves.
Beverly Hills, CA (PRWEB) May 06, 2014
A recent study from UCLA has found that robotic-assisted prostatectomy offers a number of advantages over traditional prostatectomy procedures. These benefits include a lower likelihood of patients needing additional treatment and fewer side effects than other prostate cancer treatments.
"The results of the robotic-assisted prostatectomy speak for themselves," said Kia Michel, MD, urologist at Comprehensive Urology in Beverly Hills. "With robotic surgery, urologists can perform a prostatectomy that is safer and more exact than traditional prostate surgery. We can also use smaller incisions and provide patients with better long-term results."
During the study, researchers looked at the amount of cancer cells on the edges of the removed prostate. If cancer cells are discovered near the edge, it could be indicative of cutting through cancer rather than around it, increasing the risk of prostate cancer recurrence.
Researchers discovered that as compared to traditional open surgery, patients undergoing a da Vinci robotic-assisted prostatectomy had a better chance of having all of their cancer removed and had a lower likelihood of having cancer cells left behind during the surgery, giving scientific credence to the superiority of robotic-assisted prostatectomies.
"At Comprehensive Urology, we know firsthand the benefits of robotic surgery," says Dr. Michel. "In addition to being less invasive and more exact than traditional surgery methods, robotic surgery reduces the likelihood of patients requiring additional treatment methods like radiation. All in all, a robotic-assisted prostatectomy leads to better patient results.
Kia Michel M.D. earned his medical degree at the University of Washington School of Medicine and completed his residency at UCLA. He has also been recognized as a National Pfizer Scholar. As one of the founding members of the reputable Comprehensive Urology Medical Group, located in the Cedars-Sinai Medical Towers in Los Angeles, California, Dr. Michel treats a host of urologic diseases. One of the few urologists who is both an acclaimed cancer and robotic surgeon, Dr. Michel is a compassionate doctor who has dedicated his career to providing state-of-the-art care for his patients with a warm, nurturing touch.
Comprehensive Urology is a renowned urological practice in Los Angeles that provides state of the art urological care in a personalized and compassionate environment. The physicians at Comprehensive Urology are board-certified urologists with specialty training in a number of different aspects of urology and provide tailored care for their patients with outstanding results. Call them today at (310) 278-8330 or visit their website: http://www.comprehensive-urology.com/.