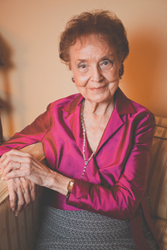 "When I lost my husband and love of my life after 58 years of marriage," says Victoria D. Schmidt, "I never thought I would be content again, but I am and you can be, too."
Lebanon, N.J. (PRWEB) May 09, 2014
Moving forward after the devastating loss of a loved one can be daunting. Whether the loss is through death, divorce or betrayal, grieving is an inevitable part of life. It will take work and commitment to find contentment again, but it can be done, and people can find happiness and fulfillment, according to author Victoria D. Schmidt who is 93 years young.
"When I lost my husband and love of my life after 58 years of marriage," says Victoria D. Schmidt, "I never thought I would be content again, but I am and you can be, too."
In her new books, Finding Solitary Contentment: Ways to Handle Grief and Embrace a New Life and Remembering the Loved One You Lost as You Walk the Lotus Gardens (an accompanying volume of inspirational readings), Schmidt advises the bereaved to grieve, cry, and talk as long as it takes; however, there comes a time when you must let go of the grief and move forward with the business of living.
Positive, motivational and life-affirming, Finding Solitary Contentment discusses:

The First Hurdle: The Shock and the Grief
Have an Identity Crisis: Learn How to Get to Know Yourself
A Cautionary Tale: Go Slowly. Set Goals. Have a Plan.
Handling Stress: Create "My Place," Get a New Look, Financial Security, Face Your Sexuality Head On
Ready for Someone New? A Woman Friend, Companion, Lover or Male Confidant
Unconditional Love: a Pet
Positive Pursuits: Pleasure, a Move, Your Dream Job
"Most grief-help books dwell on the painful aspects of losing someone," adds Schmidt. "I devote one chapter to the negatives and then go on and recommend ways to renew one's spirit and offer methods to embrace new lives while keeping happy memories of a lost loved one."
The energetic nonagenarian continues to share her inspiring advice and motivational writings on her blog, Victoria's Secrets - http://www.victoriadschmidt.com/blog. The blog offers helpful tips and insightful advice on how to live a long, happy and fulfilling life.
Victoria D. Schmidt had a long and illustrious career including being a fashion editor at Woman's Day magazine in New York City and serving as the Director of Tourism for the State of New Jersey where she was credited with their most successful New Jersey tourism campaign: New Jersey & You Perfect Together. She is also the author of Triumph in Exile and today lives in New Jersey with her gentle whippet, Dominque. The indomitable 93-year-old walks 1 ½ miles every day and shares her secrets for longevity, happiness and fulfillment on her blog.
Website: http://www.victoriadschmidt.com/
Finding Solitary Contentment: Ways to Handle Grief and Embrace a New Life is available through http://www.Amazon.com. Review copies are available upon request.