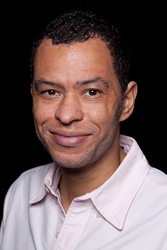 Cold Spring Harbor, NY (PRWEB) May 05, 2014
The Pershing Square Sohn Cancer Research Alliance is honoring Lloyd Trotman, Associate Professor at Cold Spring Harbor Laboratory (CSHL). Trotman will receive one of six prizes for Young Investigators in Cancer Research, which seeks to fuel innovative scientific discoveries in the search for a cure for cancer.
A member of the CSHL faculty since 2007, Trotman has focused on understanding the genetic changes that happen during prostate cancer. Some of these genetic alterations occur in a specific class of genes, known as tumor suppressors. These genes have the ability to halt cancer progression, although in tumors they are frequently rendered inactive. Trotman and his team have developed a mouse model, known as RapidCaP, to study these genetic changes in metastatic prostate cancer. The new technology allows scientists to visualize the disease in live animals. Trotman is using RapidCaP to determine how mutations cause cancer and to test potential treatments for metastatic disease.
The Pershing Square Sohn Prize for Young Investigators in Cancer Research funds early-career scientists to encourage inventive and creative approaches to cancer research. The award provides up to $200,000 each year for three years and promotes innovation and collaboration between academics and industry. Awardees are partnered with a mentor from the pharmaceutical industry to facilitate drug discovery. At the end of their tenure, prize recipients present their most promising work to business professionals at the annual Sohn Investment Conference.
"The Cold Spring Harbor Laboratory community joins me in congratulating Lloyd Trotman," says CSHL President and CEO Bruce Stillman. "Generous support from philanthropic organizations like The Pershing Square Sohn Cancer Research Alliance is particularly important to encourage the most innovative science to develop cures for cancer. I particularly want to thank Bill Ackman for his vision in promoting this type of research. It is enabling gifted young scientists like Dr. Trotman to proceed with critical work that will become the basis of the next generation of cancer treatments."
About Cold Spring Harbor Laboratory Founded in 1890, Cold Spring Harbor Laboratory (CSHL) has shaped contemporary biomedical research and education with programs in cancer, neuroscience, plant biology and quantitative biology. CSHL is ranked number one in the world by Thomson Reuters for the impact of its research in molecular biology and genetics. The Laboratory has been home to eight Nobel Prize winners. Today, CSHL's multidisciplinary scientific community is more than 600 researchers and technicians strong and its Meetings & Courses program hosts more than 12,000 scientists from around the world each year to its Long Island campus and its China center. For more information, visit http://www.cshl.edu.