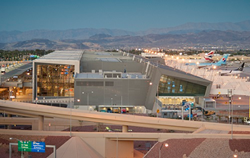 'It's an innovative way of improving the overall customer experience,' states Dr. Evan Escobedo, Practice Principal at iweSocial.
Denver, CO (PRWEB) May 06, 2014
iweSocial, (a Division of Zunesis) and a top-tier provider of social media services based in Denver, Colorado, today announced that its Social Media Listening Command Center was selected by McCarran International Airport in Las Vegas to provide regular Social Insights reports. These comprehensive readouts, which are among iweSocial's best-selling service options, consist of in-depth social media analytics that allow McCarran International's staff to better understand travelers' experiences as they make their way through the airport.
Through proven methodologies and best-in-industry social listening tools, the team at iweSocial is able to quantify and categorize social media conversation, which ultimately provides McCarran International with key insights necessary to develop new strategies regarding overall traveler experience. For example, conversation sentiment is identified and analyzed on concession quality, parking operations, housekeeping, and other various airport services. The data is then identified, assembled, and sent to the appropriate departments for action.
"It's an innovative way of improving the overall customer experience," states Dr. Evan Escobedo, Practice Principal at iweSocial. "Our Social Insights enable the team at McCarran to be completely aware of the online conversation surrounding their airport. By categorizing topics of conversation we can identify specific issue areas. Maybe a power outlet in Terminal 3 needs maintenance, or perhaps a restaurant within the airport is under-performing. The end result is an airport armed with better information can provide a better experience for travelers."
McCarran International Airport also leverages Social Insights to identify positive feedback and top-performers. This ultimately allows the airport to recognize its staff and partners for their hard work and dedication. "Close to 115,000 passengers come through McCarran each day, and learning what travelers enjoy or do not like about our airport is the first step toward improved customer service," said Rosemary A. Vassiliadis, director of aviation for Clark County, Nev. "Many of our customers share their opinions via social media channels, and we look forward to putting the information gathered by iweSocial to good use for the benefit of Las Vegas visitors and local airport users."
iweSocial provides services to clients across all industries and verticals. Today's leading organizations are getting ahead by leveraging iweSocial's Insights packages to analyze data across the entire public web and turn that data into actionable intelligence to better understand customer sentiment, competitive standing, and brand reputation.
To learn more about iweSocial's services, visit iweSocial.com.