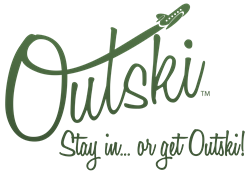 It's all about planning and saving to achieve a travel goal.
Tucson, AZ (PRWEB) May 06, 2014
Outski debuts its travel services website and iPhone app at TechCrunch Disrupt NY 2014 today in New York City. The platform features social collaboration and travel booking components as well as patent pending financial planning and saving capabilities that allow users to create an FDIC insured Vacation Savings Account or "VSA". The Outski platform gives consumers a simple, collaborative and effective way to get from "we ought to take that trip" to actually taking it.
Outski is the brainchild of founder Greg Nickolson, a tech entrepreneur in Tucson, AZ. Nickolson noticed that twice in one week, phone conversations with friends of his ended with a promise to "take that trip sometime." He looked for a website that would help him keep those promises and couldn't find one. So he built it himself.
"Everybody has had that conversation. Friends or family talk about a big trip they should take, and everybody chimes in and nod their heads, but years go by and nothing ever happens," explains Nickolson. "Outski solves that problem."
Outski's optional VSA is FDIC insured and provides users with their own Travel Savings Card, a debit card that can be used to pay for flights, rooms, cruises, meals and anything else from merchants accepting Discover or Visa branded cards. "Most advice about planning a vacation starts with the idea of setting up a separate vacation savings account, so we believe that this component of Outski is crucial," says Nickolson. Outski users can fund the VSA via their checking or savings accounts, a Pay Pal account, or with a payroll deduction program that Outski calls 401(play)™. A basic Outski account is free and the optional Vacation Savings Account is $9.95 with no monthly fees.
Outski has developed partnerships with travel industry leaders Viator, G Adventures, Expedia and Last Minute Travel Club, as well as with financial institutions including Visa, Discover and Sutton Bank of Ohio. By combining financial, social and travel industry features, Nickolson believes that millions of consumers will be attracted to Outski. "It's all about planning and saving money to achieve a travel goal. We've seen research showing the average American worker did not use 12 days of paid vacation time last year, and that most of them would have taken those days if they had the funds to travel. We developed a feature set with Outski to address the issues everyone faces when it comes to having the time and money for a vacation."
###
For more information:
Bob Morrison, Outski Chief Marketing Officer
bob(at)outski(dot)com