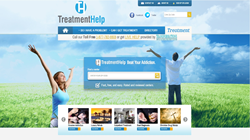 Delray Beach, FL (PRWEB) May 07, 2014
Oftentimes, individuals in long-term relationships with an addict feel conflicted: while they want to help their partner overcome addiction, the previous physical or psychological abuse they endured as a result of the addiction makes the relationship is unable to be repaired. Such individuals may feel guilty about "abandoning" their partners or they may be dependent on their addicted partner for support, despite the addiction.
TreatmentHelp offers the resources needed to aid individuals in physically or emotionally turbulent relationships with addicted partners. TreatmentHelp names the following are 5 excuses commonly stated to defend an addict:
Excuse #1- "It's Not My Partner's Fault That He/She is Behaving This Way"
It is true that addiction can be debilitating, causing drastic changes in mood and behavior. However, validating the partner's addiction and victimizing the partner stunts any progress towards recovery. The addicted partner must be willing to change his/her behavior and start taking the steps towards getting help. If the addicted partner is not taking steps to try and seek help, it may be futile to stay in the relationship.
Excuse #2- "I Can't Leave My Partner Because I Love Him/Her"
While love is an important factor of a relationship, so is safety. If love is the only reason to stay with an addicted partner despite his/her abusive behavior, it may be important to introspect further. A partner's behavior becoming consistently aggressive or harmful can be extremely dangerous. These are not valid excuses to continue the relationship until the addicted partner gets help.
Excuse #3-"I'm Afraid to Leave My Partner"
Although fear of being alone is a rational one, in the case of a dangerous addict, it may be necessary to take some time apart from him/ her until the behavior becomes more stable. If the addicted partner is the primary breadwinner, it may be necessary to look for stable options rather than staying and putting up with the behavior.
Excuse #4-"Maybe My Partner Will Change"
An individual addicted to alcohol or substances needs to make the decision to seek treatment on his/her own. Hoping that the addicted partner will eventually change his/her habits or trying to force him/her to change may be detrimental to both the relationship and the addicted partner's recovery.
Excuse #5- "I Need My Partner"
"Needing" a partner who is incapable of providing support, stability, or love in the relationship may lead to codependent behaviors, which can be extremely serious. Staying with someone due to personal obligation may not outweigh the overall detrimental behavior that can arise.
If you find yourself saying one or more of these excuses, it may be time to seek help. Please visit http://www.treatmenthelp.com or call the toll-free number (877) 782-6608 to find out more information.